Aug 19, 2020
10 Back to School Hairstyles: Using Lice Prevention Products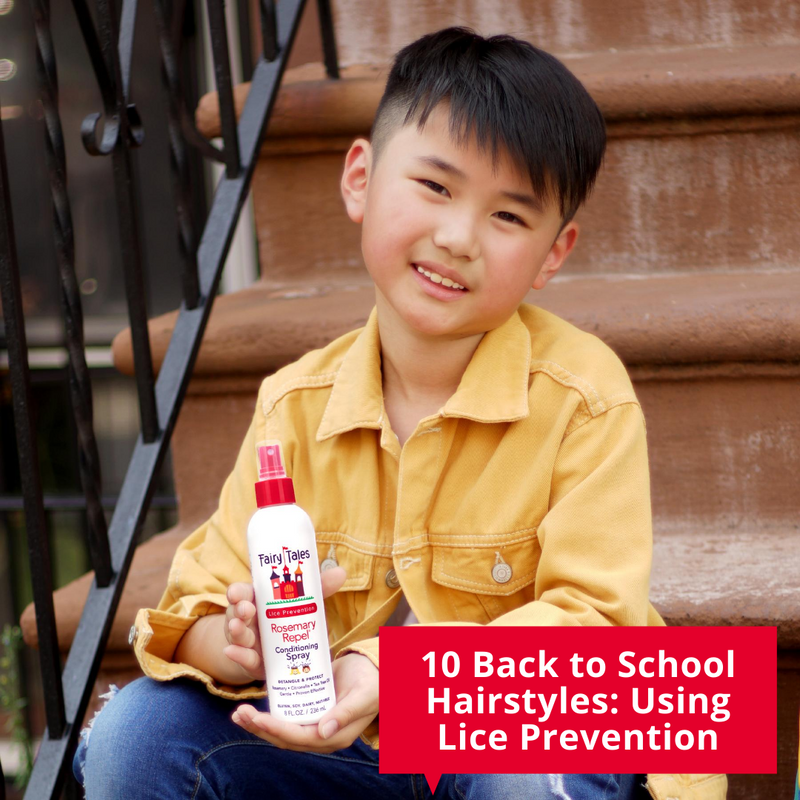 After months of being away, schools are finally reopening, and you know what that means! No, we're not talking about homework and boring schoolwork, we're talking about cute back to school hairstyles. Not to rain on our parade, but school reopening also means possible head lice outbreaks in classrooms, aka a parent's nightmare. After this whole ordeal with COVID-19, it's safe to say no parent wants to add lice treatment on top of that, which means lice prevention products are a must this time of year. Fairy Tales Hair Care partnered with independent hairstylist Alli Parker from Florida to show you different hairstyles your kid can wear with using our Rosemary Repel line, which includes a lice prevention shampoo and conditioner and a lice spray for conditioning.

All hairstyles & descriptions were created and provided by Alli Parker (IG: @playbraids)

1. Side Braids


Small side braids with bright elastics give a week's worth of versatility and can be worn with hair half up, in a ponytail, pigtails, even a bun or space buns! Switch up elastic colors to match your outfit (or a friend!).

2. Five-Strand Ribbon Braids


Adding colorful ribbon to braids is a great way to accessorize your hairstyle and a fun way to display team colors for games and tournaments. Have your school or team color ribbons on hand for quick styles!

3. Lace Braid with Bow


Headband braids are a great way to keep your hair out of your face by using it as a built-in accessory! Create a fun "hair bow" by looping hair through a small elastic for a fun pop of cute!

4. Pink Dye


Who says girls have all the fun?! Add a bright semi-permanent color to your boy's hair for an unexpected surprise and set it with Fairy Tales's Rosemary Repel Styling Gel.

5. Rope Twist French Braids


Classic double Dutch braids are even more fun when you add colored braiding hair (and match your bestie!). This style is perfect for school and transitions beautifully to all of your after-school activities.

6. Side Braids with Afro


Mohawk vibes are always trending! Whether you add cornrows and metal hair cuffs or just opt for center puffs, this is such a fun and versatile style that can go from edgy to glam to diva!

7. Rope Twist and Electric Pigtail Braids


Rope twist pigtails are so quick and cute! Twist two sections of hair in the same direction, and then around each other in the opposite direction, then secure with a bright elastic. Once you've mastered twists you can get creative by adding pops of color and small braids!

8. Rainbow Braids


Ombré braiding hair is a girl's best friend! Dressing up braids with little hair rings and charms is a super fun way to personalize your style!

9. Pull-Through Braid


Sashay away with My Little Pony hair! Adding pops of braiding hair to a pull-through braid creates an amazing amount of volume, style, and instant attitude. Go for the gold and add some glitter to your Fairy Tales's Rosemary Repel Styling Gel!

10. Quiff


Soccer hair don't care! Adding a few spritzes of Fairy Tales's Rosemary Repel Hair Spray while rough-drying creates a workable texture that can go from the bus stop to the soccer field in style while helping prevent head lice!

You can find every product Alli used on her clients and more back to school essentials on Fairy Tales Hair Care's website!

Stay safe, be smart and be well.




Risa Barash, Founder & Owner & the entire Fairy Tales Hair Care Family