Mar 11, 2015
Spring Break/Hitting the Road or Hunkering Down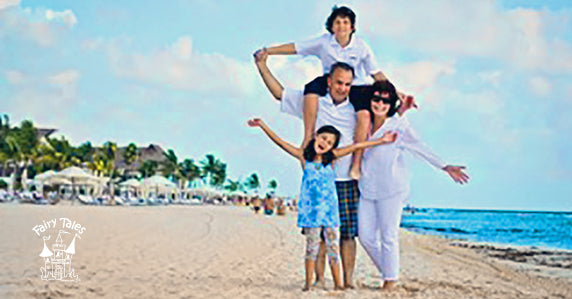 Remember when Spring Break meant parties, beaches and bikinis?
We all have college memories–albeit blurry—of wild nights on the beaches or the slopes. I am probably not alone when I say, I'm grateful I made it through those vacations in one piece. The fact that I survived Spring Break 1988 is a freakin' miracle! Let's leave it at that.
But Spring Break survival doesn't get any easier when we have kids.
Fast-forward 20 years…
We are off to visit family in Florida. After much chaos we are finally seated on the plane. Jack (age 4) is fine on planes; he watches Thomas the Tank Engine endlessly and he is happy. Ava (age 2) just wants to nap. However, Ava can't nap—anywhere but her crib.
Somewhere over Washington DC, I lay her down kicking and screaming on the floor hoping to prevent the large man in front of us from having a coronary. Not because of Ava's surprisingly strong feet, but because his wife kept yelling at him to shut up and feel sorry for me.
He didn't feel sorry for me. Neither did the kind woman who offered Ava a lollipop just to have it thrown right back in her face. My sweet girl became a demon on that flight. United Airlines had a picture of us in their office for years to come. I am convinced. Which was fine, because we didn't want to travel with our kids for a LONG time after that!
We became big fans of the Staycation.
We learned to roller skate, paint pottery and bake cupcakes. We watched black & white movies and played monopoly. There is something so nice about not rushing around. Lounging on the floor, laughing at home with the kids is genuinely relaxing.
Now that our kids are older, we do take one vacation a year to a nice warm beach.
A much-needed and earned escape—we all work so hard. Jack and Ava are great students and we expect a lot from them. And, well… the Fairy Tale Lice Lady is always tired!
We use the Coco Cabana Spray® all day long, spritzing it on our hair to keep the sun from drying us out. It smells so delish—like a Pina Colada! The fruit extracts in Lifeguard Shampoo® & Lemon-Aid Conditioner® gently remove chlorine, sea salts and minerals.
When dinnertime rolls around, our clothes may be a bit wrinkled (I don't iron on vacation), but our hair always looks fabulous! When we meet people on the beach, Moms always ask how Ava's long hair remains soft and silky after being in the ocean for hours. I love to share our Fairy Tales. I have even shared our products in paper cups!
———————————————
Lice Lady Tips for Spring Break Survival:
• Thrive in the Sun. leave Lemon-Aid Conditioner® in for a few minutes for extra cleansing and moisturizing. It's color safe so Moms will love it too!

• Get Some Rest. Toss Bug Bandit® in your bag when you go out at night and re-apply often. Lemon eucalyptus oil repels mosquitoes safely and effectively.

• Pack light. But always carry our Sun & Swim line® & Bug Bandit Repellent® with you. Make Fairy Tales part of your vacation and share your photos with us.

Got a nightmare travel story? Tell us about it. Ava needs to know she's not alone.
What are some of your favorite things to do on a staycation? New ideas and inspiration are always welcome. We look forward to hearing from you! Fairy Tales Hair Care Facebook page. #FairyTalesUntangled
Whether you hit the road or hunker down this Spring Break, enjoy the adventure!
Risa Barash, Founder & Owner