Dec 15, 2015
Celebrate What Really Matters this Holiday Season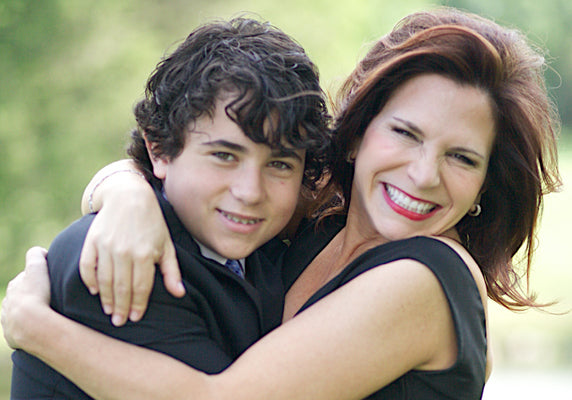 December is the perfect time to reflect on the past year, to be thankful for all we have and to give back to a cause that resonates within us.
Let me share what I am most thankful for this holiday season. I hope you will join me in giving back to a cause so near and dear to my family.

Our son Jack was diagnosed with a gastrointestinal disease called Ulcerative Colitis (UC). UC is not a "pretty" disease and, like all Inflammatory Bowel Disease (IBD) issues, people don't like to talk about it much (just like lice!). It's a genetic disease–I suffer from it–and I know that I passed UC along to my beautiful boy.
Now, I know I shouldn't blame myself. But tell that to a Mom wracked with guilt as she watches her beautiful, healthy, lively boy suddenly stop growing and become a withdrawn, shrunken version of himself. Literally within weeks, Jack went from having a "stomach virus" to lying in the hospital being fed thru an IV.
Most of you know I am a tough cookie. I love to laugh. I find humor in things I probably shouldn't. With this news, I was reduced to a crying, sniveling, insane lunatic! I still can't get thru a conversation about Jack's diagnosis without crying. I know there are a lot of Moms out there who are living with much worse, but the common thread isn't the disease.
It's watching our children suffer and knowing we can't fix it or make it go away.
There are times when the unfairness of it all bubbles up and threatens to consume me. UC is a chronic illness and there is no cure. I am about as close to a cure as you can get – I have practically no insides left! Thankfully, I am blessed with a hearty sense of humor. Honestly, the jokes are endless. My suffering makes it easier to understand what Jack (and all kids with IBD) goes thru. Knowing the high stakes makes it harder, though – medicines help, they do not cure.
After months of trial and error, dispensing more pills than any Mother should have to give her child, I was given a gift. We were sent to the pediatric team at the Mount Sinai Feinstein IBD Clinical Center in NYC. Luckily the Mount Sinai doctors were the first to study a new infusion drug therapy in children and Jack was a perfect candidate. Dr. Marla Dubinsky and her team healed our son in months! Now, every 8 weeks, for just 30 minutes, Jack has an IV of this amazing medicine, Entyvio.
His gut has healed, he has grown 5 inches in 6 months and he is back to being a surly teenager! YAY!
So, this is my wish – I hope you can all help us raise funds for the IBD Home Program at Mount Sinai. This model Center has the ability to be a national leader in addressing the unmet needs of IBD patients. And quite frankly, they have helped not only heal Jack, but keep me sane throughout all of this!
Please click on the link and consider donating whatever you can – every single dollar helps and Fairy Tales will match your donation dollar for dollar! https://philanthropy.mountsinai.org/pediatricibdcenter
Thank you and Happy Holidays from all of us at Fairy Tales Hair Care.
Risa Barash, Founder & Owner
Now, go hug your lice free children for me!

———————————

ABOUT MOUNT SINAI'S IBD HOME:
At the core of the Mount Sinai Feinstein IBD Clinical Center's efforts to provide critical educational and psychosocial support is The (Inflammatory Bowel Disease) IBD Home, an integrated program of exceptional care, education, support and research designed to promote wellness and enhance resilience in children and adults with IBD. The IBD Home serves as the foundation for support to individuals and delivers patient-centered care. The services of The IBD Home are continually informed and grounded in the latest research, with the goal of developing the program into a national model. The team provides care and support to patients over the entirety of their lives. We expect that The IBD Home will become a global leader in clinical care and research in promoting optimal health, well being, and outcomes for IBD patients and will inspire many other similar initiatives.

Our Fairy Tales complete line is available at Ulta, Bed, Bath & Beyond, salons and select pharmacies and retail stores, as well as online at www.fairytaleshaircare.com. #1 recommended by pediatricians, school nurses and moms since 1999!