Oct 08, 2020
🏫 College, COVID, and More Ice Cream🍦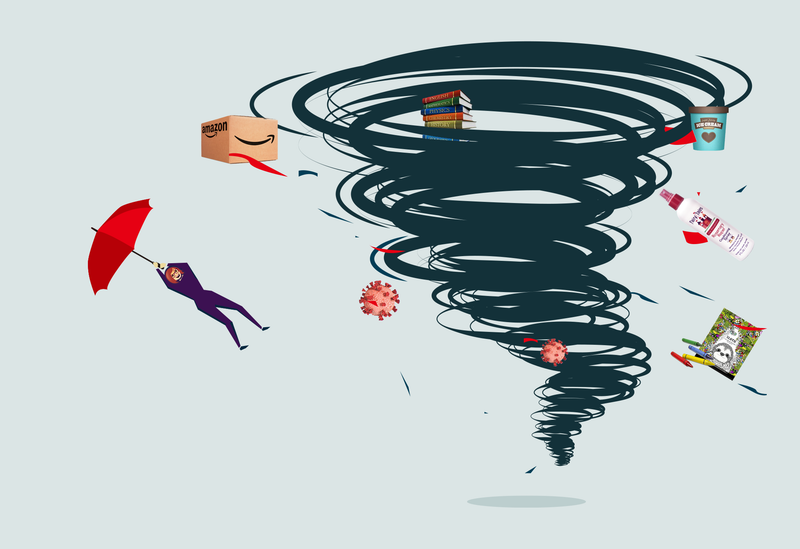 Is it possible to be on the verge of a nervous breakdown for months at a time? Can Michael Phelps's new online therapy company help me??? Is online therapy even legal?? Why is
Jeni's Ice Cream
so incredibly fabulous?? AND, how did my kid get COVID??!
Welcome to last week. Imagine waking up to a text (yes, a text): "Mom, I was contact traced. I'm being quarantined and I have an hour to pack for 2 weeks. What should I bring?" All that before coffee and I was expected to answer immediately. So, off Jack went to the "quarantine hotel" in New Orleans. The school does an amazing job of contact tracing and quarantining the kids, so I was comfortable knowing his case manager was going to look after him. He was going to have 3 meals delivered to him. He had a TV, his laptop, and phone, and he had his schoolwork. 2 weeks by himself wouldn't bother him. He has a working Mom, so he's used to being alone. What I wasn't ready for was the text 2 days later, "Mom my throat is on fire and I have a fever." To say that a million thoughts ran through my head in a hot minute is an understatement. "But he tested negative" is all I kept thinking – then I started googling false negatives. Don't do that.
Instead, I grabbed Jeni's Brown Butter Almond Brittle ice cream (seriously, what is in this??) and began reading about kids who get COVID. 1 pint and 3 pounds later, I decided to just breath and have faith that he was going to be ok. Kids don't usually get really sick, and there is no reason for me to believe my son would be the exception. I backed away from the freezer and proceeded to order medicine and any soft foods I could find on Instacart for delivery to the hotel. Jack is still mad at me for the half dozen x-large boxes that filled his hotel room. And ok Jack, maybe the coloring book and crayons was a bit insane – drop it! A dozen times a day, he would text telling me how awful he felt and that he couldn't talk because it hurt too much. Then he'd sleep for hours on end. This went on for 3 days. The only time he seemed like himself is when he'd snap a photo of the coloring book and type, "WTF??"
My new BFF Jeni and I had a long 3 days, but during that time, I learned a lot. I learned self-control as I did not get on a plane, pull him out of school, and lock him back in his room. I learned patience as I didn't tell him where to shove the coloring book. I learned that dairy-free ice cream is really good (thanks Jeni!). Most of all, I learned that I can't panic and that I need to learn how to live in this new "normal." We all do. We don't know what tomorrow is going to bring, and we might never go back to the way things were. As scary as that is, fighting it is starting to feel incredibly unhealthy – no matter how good the ice cream is.
So, we made it through another week. Jack is back in his dorm, feeling just fine and I'm going on a diet.
Stay safe, be smart and be well.
Risa Barash,
Founder & Owner & the entire Fairy Tales Hair Care Family