Sep 15, 2020
Gluten Free Shampoo for Kids that Helps Prevent Head Lice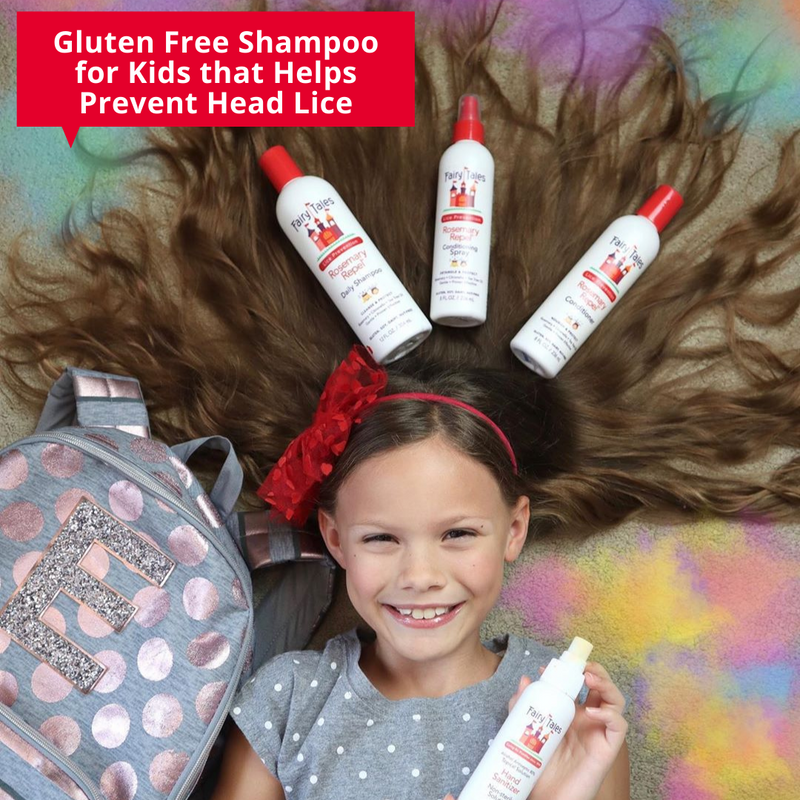 Gluten free shampoo has a misconception of being labeled as just a fad for health gurus. Many parents also wonder, "Why does it matter if shampoo is gluten free?" Restaurants include gluten free options on their menu, and now beauty products are marketing themselves as such.
But what if I told you gluten free hair products is just as important as their food counterpart? A child with celiac disease or gluten intolerance could benefit their health because despite not orally ingesting their hair products, your child's skin, like anyone's, is an incredibly absorbent organ, which is proven by people using nicotine patches on their arms to stop cigarette cravings. So with this in mind, when you consider how incredibly sensitive some with celiac disease can be to gluten, using shampoo that contains gluten becomes very worrying for parents. That's why gluten free shampoo brands are very important for children's health.
Why Natural Lice Treatment is Important
Having gluten free options for kids lice treatment is very crucial to have in the hair market. We want kids with celiac disease or gluten intolerance to know that their needs aren't being ignored, and there are great head lice treatments that also caters to their disease or intolerance. Lice is already a nightmare to deal with, so why add more stress when looking for products that could be potentially dangerous for children's health?
Natural lice treatment is a better option to find because they won't contain any pesticides or harsh chemicals that might damage your child's hair or scalp. That's why we at
Fairy Tales Hair Care
released a
head lice shampoo
,
conditioner
, and
lice spray for kids
that are gluten free and contain natural ingredients that also promotes a healthy shine.
Best Natural Ingredients to Help Prevent Head Lice
When looking for a gluten free shampoo and other hair products that fits as a natural lice treatment, you should look for these natural ingredients for your kids:
1.
Rosemary
According to doctors, rosemary is a great natural ingredient to repel lice because they hate the smell of rosemary. It's also great for your child's scalp since it strengthens circulation, which stimulates hair growth.
2.
Tea Tree Oil
This ingredient has a great reputation for repelling lice! In some studies, they show how tea tree oil reduces the number of lice eggs that hatched.
3.
Chamomile
When you mix chamomile with other ingredients like tea tree oil, geranium, citronella, and other essential oils for lice, it's proven to successfully repel those pesky critters.
To find a safe gluten free shampoo for kids that helps prevent lice, check out Fairy Tales Hair Care's
Rosemary Repel
collection, which features a
natural shampoo
,
conditioner
, and
conditioning spray
.
Stay safe, be smart and be well.
Risa Barash,
Founder & Owner & the entire Fairy Tales Hair Care Family