Feb 19, 2021
Green Tea in Kids Shampoo and Conditioner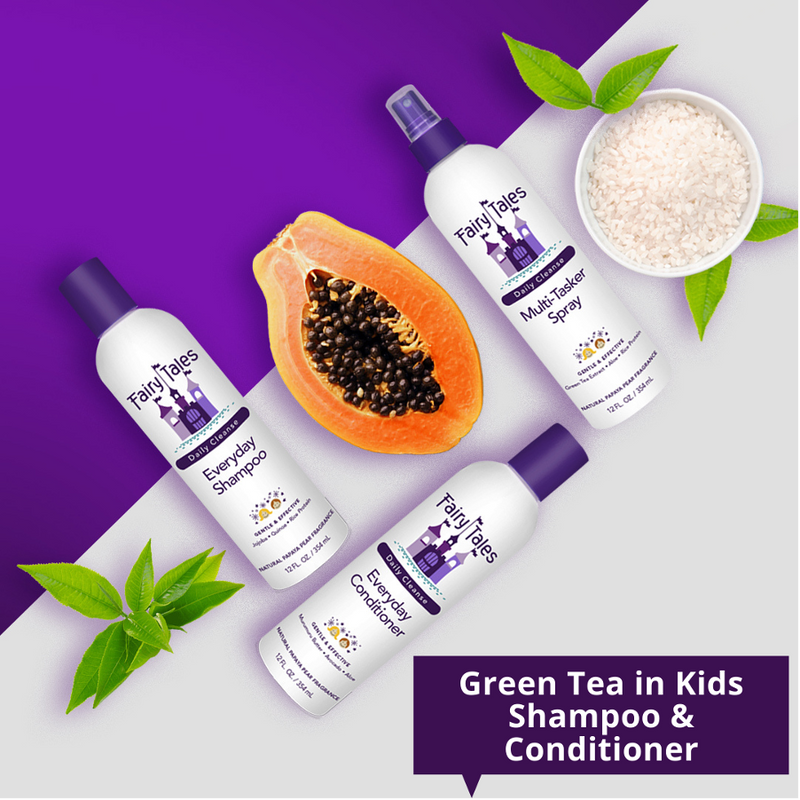 Benefits of Green Tea for Kids Hair
You've probably already heard that Green tea is healthy for your digestive system and metabolism. It's been used for centuries as a cure-all due to its massive amounts of powerful antioxidants. But did you know that green tea might also be good for your kids hair?
You heard that right – using kids shampoo and kids conditioner products that contain green tea could potentially make their hair healthier. Those same antioxidants that boost your immune system and promote a healthy digestive system also benefit your kids hair by preventing hair loss and supporting new hair growth.
What is Green Tea?
All teas are made from the same plant, the "tea plant," called Camellia sinensis. What makes each tea different (green, black, white, oolong, etc.) is the way in which the leaves are dried and processed. Green tea goes through a drying process and sun exposure that prevents fermentation, causing green tea's distinct flavor. This same process allows green tea to maintain its rich antioxidant content, specifically of the powerful antioxidant known as EGCG (epigallocatechin gallate). This particular antioxidant (EGCG) has been linked to lowering your risk of heart disease, cancer, and even prevents hair loss from breakage, damaged follicles, and split ends for kids.
Benefits of Green Tea for Kids Hair
Your kids hair can take some abuse – think sports, over-styling, and even poor nutrition – that could be causing unwanted hair loss and damage. Green tea extract is good for your hair and has the following benefits:
Strengthens hair follicles
– Green tea improves nutrient delivery to the hair root (follicle) helping to strengthen hair and reduce risk of damage.
Protects against UV damage and free radicals
– The powerful antioxidant EGCG shuttles nutrients to hair and follicle while protecting your kid's hair from sun damage.
Prevents kids hair loss
– some studies have shown that EGCG found in green tea and green tea for natural hair can inhibit the effects of the hormones that cause hair loss.
Promotes hair regrowth
– Green tea for hair growth is due to EGCG which stimulates follicles and prevents damage to skin and hair cells ultimately increasing hair growth.
Controls split ends and softens the hair
– Vitamin B from green tea promotes hair health and helps control split ends while softening your kid's hair.
You can now find green tea extract in Fairy Tales Hair Care's new
Daily Cleanse Trio
, which comes with a
daily shampoo
,
daily conditioner
, and
multi-tasker kids spray
. With a blend of green tea, rice protein, aloe, and murumuru butter, these hair products for kids will help prevent breakage while sealing in moisture.
Stay safe, be smart and be well.
Risa Barash,
Founder & Owner & the entire Fairy Tales Hair Care Family