May 16, 2022
Kids Natural Products To Prevent Sun-Damaged Hair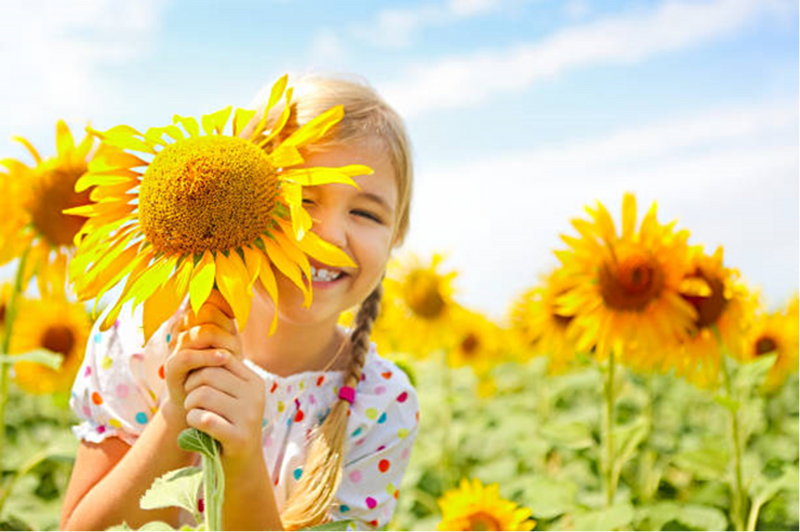 It's a no-brainer to apply and reapply sunscreen during these blazing hot and long summer days. We're super careful to shield our skin from the sun's harmful rays and prevent sunburns, hyper pigmentation, and skin cancer. But, one part of our body almost always gets overlooked in the sun — the hair.
Like your skin, the sun can damage the outer covering of your hair, the cuticle. As a result, you'll find that your hair is discolored and breaks easily, strands are dry and brittle, and the hair is generally frizzy and dull. One way to protect your hair from sun damage is by using products with natural ingredients for summer hair care to prevent and reverse the damaging effects of UV rays.
For millions of years, the human race relied solely on nature to protect and nourish us. And while most of the modern world has forgotten just how potent many of these natural ingredients are, they are still available for us to enjoy. Here's a quick summary of just a few you'll find as chief ingredients in Fairy Tales Hair Care.
Natural Ingredients for Kids Summer Haircare
Before you head out for a day in the sun with your child, protect their hair by applying products with natural ingredients that moisturize and nourish hair and prevent kids' sun-damaged hair.
Here are some ingredients that guarantee summer hair health.
Grapefruit Peel
Grapefruit peel extract works as a natural chelator to help remove chlorine, sea salts, and minerals gently and effectively without stripping the hair of its natural oils. While this ingredient protects and nourishes your hair, it gives off a natural scent. You can find grapefruit peel extract in our Sun & Swim™ Lifeguard™ Kids Clarifying Shampoo.
Jojoba
Jojoba is natural, gentle, and calming to the scalp. Its vitamins and minerals nourish hair from within to strengthen it and prevent breakage. When treating kids' sun-damaged hair, go for jojoba. It's featured in our Sun & Swim™ Lemon-Aid™ Kids Conditioner.
Orange flower extract
Orange flower extract — with its fresh and fruity scent — does the same work as the grapefruit peel extract. It is a natural chelator and keeps your hair follicles strong and healthy. Orange flower extract is another active ingredient in our Sun & Swim™ Lifeguard™ Kids Clarifying Shampoo.
Avocado butter
Avocado butter is one of the best natural ingredients for summer hair care. Naturally rich in vitamins A, D, and E, this ingredient helps moisturize, deep condition, and smooth split ends. You can find avocado butter in our Curly-Q™ and Daily Cleanse Kids Everyday Conditioner.
Coconut Oil
When naming natural ingredients for summer hair protection, you just can't leave coconut oil out. Featured in our Sun & Swim™, it neutralizes odor-causing bacteria, soothes irritation, and hydrates hair and skin.
Natural Homemade Treatments for Kids' Summer Hair
For Hair:
There are a lot of natural ingredients you could use to make a chemical-free mild sunscreen to protect your toddler's locks. Here's one recipe you should try:
Mix:

Coconut oil (2 tbsp)
Avocado oil (1 tbsp)
Almond oil (1 tbsp)
Aloe vera gel (3 tsps)
Water (40 ml)

Store the mixture in a hairspray bottle.
To use this mild hair sunscreen, shake and apply to hair before heading to the beach or pool. Aloe vera is a natural hair conditioner, and the oils help absorb UV rays and protect against sun damage. So, the mixture will condition and protect your toddler's tresses.
For Roots and Scalp:
Your child's roots and scalp also need protection from the sun, more so if your child's hairstyle exposes the scalp to direct sunlight.
Try this homemade oil treatment to prevent kids' sun-damaged hair.
Mix vitamin E and olive oil.
Warm the mixture and massage it into the scalp.
Let sit and then rinse.
This treatment will protect against oxidative stress and free radicals caused by UV rays. It will also condition your toddler's scalp from within and promote healthy hair growth.
Picking the Best Summer Hair Care Products for Kids and Toddlers
Like most moms, you have responsibilities and engagements that need your attention. So, making your child's hair care treatments yourself might not be practical. You should find products with natural ingredients specially formulated for kids' summer hair.
For 20 years, Fairy Tales Hair Care has kept the legacy of pioneering safe and natural hair care for children with functional products famous for their results. We have just the products you need to nourish and protect your toddler's locks from sun damage. Head to our Sun & Swim™ to get effective summer hair care products for your child.
Have fun, enjoy and stay safe!

Risa Barash,
Founder & Owner of the entire Fairy Tales Hair Care Family