Jul 26, 2023
Rosemary Repel Back-to-School Hair Care Tips!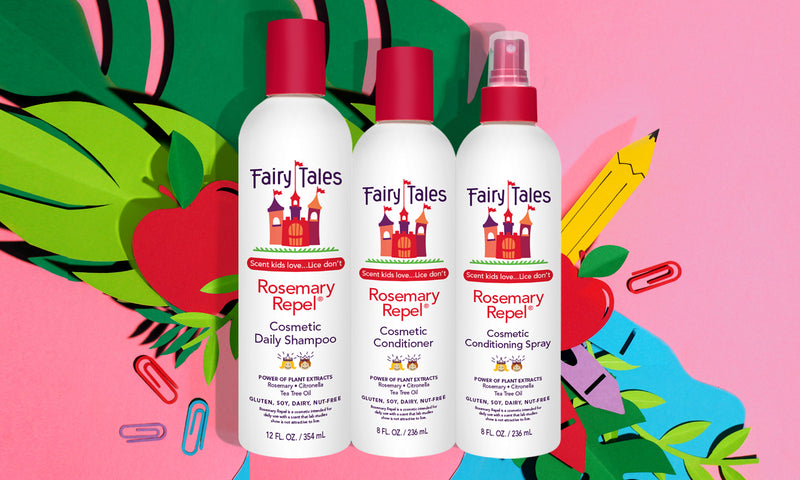 Back to School time is Rosemary Repel Hair Care time!  Looking for the ultimate solution for clean, soft, manageable and just gorgeous hair?  Summer is over, the chlorine-tinged hair has faded and it's time to focus on the classroom. Rosemary Repel hair care is specifically formulated for kids to deep clean, condition, detangle and the best part?  Kids love the smell, but lice do not!  That's right! Our proprietary blend of rosemary, tea tree, citronella, jojoba, lavender and aloe vera deliver beautiful results and our studies have shown that head lice don't like the smell! This perfect back to school staple has been the bestselling hair care line for kids since 1999 and has sold over 5 million bottles.
Get ready for those back-to-school pictures!  Fairy Tales kids shampoo products are ideal to ensure your child's hair is soft, silky and picture perfect.  We only use safe and gentle ingredients and we are proud to be sulfate free, paraben free, phthalate free, gluten, soy dairy and nut free!
So, gear up for back-to-school season with Fairy Tales Hair Care's Rosemary Repel Shampoo, Rosemary Repel Conditioner and the #1 school must have, Rosemary Repel Leave-in Conditioning Spray. 
What makes Rosemary Repel so special?? Our ingredients! 
Rosemary Oil: This essential oil is known for its ability to boost shine and strengthen hair. It encourages overall hair health, making it an essential ingredient in our BTS Refreshing Rosemary Hair Care line.
Citronella: Citronella is not only famous for repelling insects but also for its benefits to scalp health. It adds shine to lifeless and dull hair, giving it a vibrant and healthy appearance.
Tea Tree: With its deep-cleansing properties, tea tree oil ensures that your child's hair is thoroughly cleansed, creating bounce and life. It revitalizes hair follicles and contributes to a healthy scalp.
Geranium: The inclusion of geranium in our hair care products strengthens the hair, promoting its overall health and vitality.
Peppermint: Peppermint oil helps improve circulation in the scalp. It contributes to healthy hair growth and provides a clean, fresh scent.
How to best use Rosemary Repel Hair Care:
During the busy school year, many kids chose to shower daily.  This is what makes the Rosemary Repel products so special – they are perfect for everyday use!  In fact, our bestselling Rosemary Repel Leave-in Conditioning Spray can be used morning and night -and any time in between when you need a little refresher or protection!  Spray throughout the layers of the hair and focus on part lines, back of neck and around the ears – remember, kids love the smell but head lice do not!