Jul 04, 2015
Summer Camp Essentials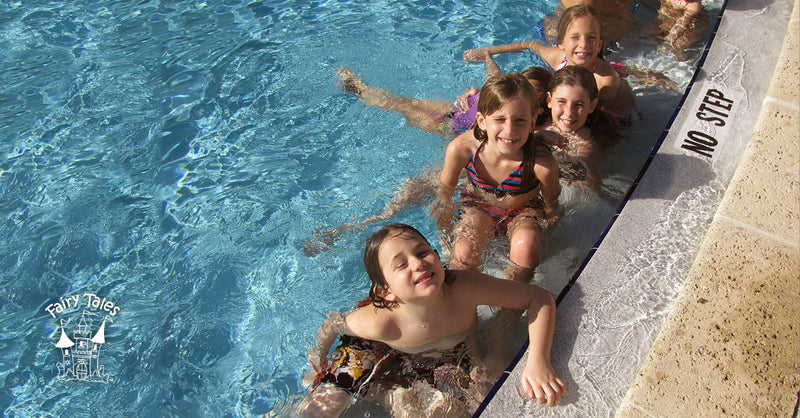 Children's hair can be a real problem over the summer.

Let's face it...so can ours. Sun mixed with pool and lake water can damage the hair, stripping it of oils and nutrients. Outbreaks of lice remain prevalent, as kids are in close proximity to one another, sharing sporting equipment, combs, towels, etc.
To protect and prevent, I recommend mixing and matching our Fairy Tales products for fabulous summertime hair.
First, try alternating Rosemary Repel® Shampoo and Lifeguard® Clarifying Shampoo when you wash. For blond and sun-damaged hair, the Lemon-Aid® Conditioner should be used and left on hair for a minute or two extra to remove chlorine, sea salt and minerals. The aloe, jojoba, vitamins and minerals in the Lemon-Aid® Conditioner will soften, moisturize and detangle hair, as well.
Rosemary Repel® Creme Conditioner can be rotated in too – especially if there is a lice outbreak! Then, each morning before camp, use the Rosemary Repel® Conditioning Spray. Spray through the layers of the hair, back of neck, part lines, and tops of shoulders. Rosemary Repel® not only helps detangle but also adds a fresh layer of natural herbs such as rosemary, citronella, tea tree and lavender to help prevent head lice.
Mix in a bit of the Fairy Tales Tangle Tamer® Shampoo, Conditioner or Spray to keep hair silky smooth all summer long. The new "blue line" from Fairy Tales contains natural keratin, proVitamins and aloe to strengthen the hair, moisturize and detangle even the most tangled locks and curly tops.
Whether your kids are off to camp or camping in the backyard, taking steps to protect and prevent will limit the damage and the stress.
Wishing you a fabulous summer,
———————————————
Here's your shopping list for Fabulous Summertime Hair:
Rosemary Repel® Shampoo, Creme Conditioner & Conditioning Spray
Lifeguard® Clarifying Shampoo
Lemon-Aid® Conditioner
Tangle Tamer® Shampoo, Conditioner & Spray
Our Fairy Tales complete line is available at Ulta, Bed, Bath & Beyond, salons and select pharmacies and retail stores, as well as online at www.fairytaleshaircare.com.
Summer Sale! Use CODE: SUMMER2015 at Checkout for 20% off your order. Valid now through July 20th.

Risa Barash, Founder & Owner