Jul 08, 2020
Summer Camp for Kids: What To Bring to Summer Camp 2020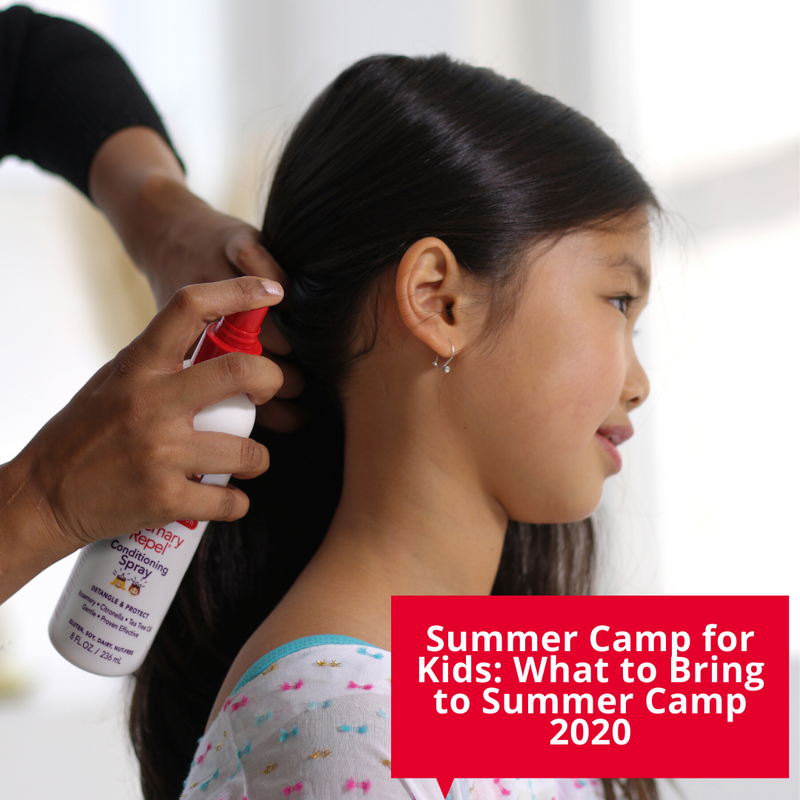 Lice prevention and hand hygiene are more important than ever. With summer camp for kids opening back up, we need to focus on prevention. Whenever a group of kids get together, there is a possibility of a lice outbreak at summer camp is high. This is also the perfect breeding ground for germs on hands, so proper hand hygiene can go a long way for both us and the little ones. The right products can help make protecting you and your family easier.
Here is a list of items you should pack in your kid's summer camp survival kit:
Camp Packing List
1. Hand Sanitizers & Masks
2. Lice prevention products
3. Bug Repellents
Hand Hygiene
Keeping your kid's hands clean is one of the easiest ways to help prevent illness and is the first line of defense against the spread of germs. When germs make their way to kids, they can become sick just by touching their eyes, nose, or mouth. With stores being open again and people being out and about, we all need to be sure to properly and frequently wash our hands!
There are other options to support proper hand hygiene for kids, like wipes and sanitizer, when soap and water are not available. The
Fairy Tales Hair Care Hand Sanitizer
is made with just four ingredients that exceed CDC's
recommendations
and follows issued FDA
guidelines
. There are no added fragrances or oils to help ensure maximum efficiency. Like all our other products, there are no harsh chemicals, pesticides, toxins, parabens, or sulfates.
Lice Prevention
Lice outbreaks occur when kids go from being apart for some time to being around each other again frequently. This is why back to school season is the peak time for lice outbreaks. The same thing can be expected when kids go from being in the house over the last couple of months to summer camp. Although they will be distancing themselves, lice can still spread on hats, helmets, back packs, and more. Taking the steps to add lice prevention to your kid's summer camp essentials now will save you from the dreaded infestation down the line.
If you are looking for the right products to add to your kids routine, check out our
Rosemary Repel® Lice Prevention
line. It is #1 recommended by pediatricians, school nurses and moms since 1999. The proprietary blend of organic rosemary, citronella, tea tree and geranium oils are clinically proven effective to help prevent lice. The full line is gentle, safe and effective. The shampoo, conditioner and conditioning spray are the ultimate defense against lice. We also have a hair spray and gel for styling!
Found lice on your little one's head? We've got you covered there too! The
Fairy Tales Hair Care Lice Good-Bye®
collection is safe and clinically proven to remove lice and their eggs without any harsh chemicals or pesticides. This means it is safe for repeated use during an outbreak. Our Lice Good-Bye® No-Drip Mousse is formulated with natural enzymes that remove the bug and dissolve the sticky "nit glue". Be sure to use our
Rosemary Repel®
line to prevent another outbreak!
Bug Repellent
Unfortunately, mosquitoes always seem to show up every time you're outdoors in the summertime, even if they aren't invited. It's important to keep the flying pests away from both your kids and yourself – and don't forget those bed bugs! Luckily, there is the
Fairy Tales Hair Care Bad Bugs™
collection. Our
Bug Bandit™ DEET-Free Bug Spray
is a natural bug repellent infused herbs and oils like lemon eucalyptus, rosemary, rose geranium, citronella and cedar bark to provide lasting protection against insects. Be sure to spray kids before they head to camp and throw the bottle in their bag to keep them bite free all day long. Our
Sleep-Tite™ Bed Bug Spray
is non-toxic and proven effective to help kill bed bugs and their eggs using natural ingredients. Perfect for travel and sleep away camp!
To pack your kids the ultimate Summer Camp Survival Kit, check out all the Fairy Tales Hair Care
products
!
Stay safe, be smart and be well.
Risa Barash,
Founder & Owner & the entire Fairy Tales Hair Care Family