Oct 03, 2018
TBH, Back to School has been Busy!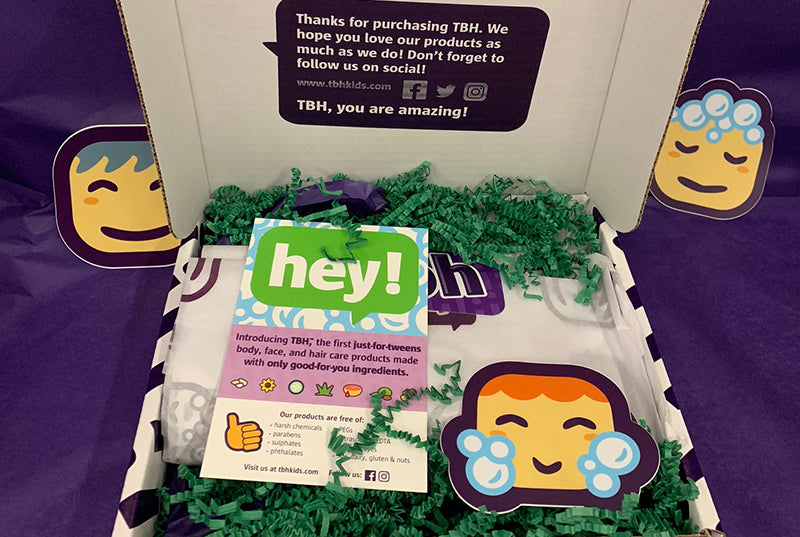 I cannot lie to you all – I'm really glad September is over. It's always such a rush to get back into the school groove. Add to that, lice season and the launch of TBH™products – I am officially exhausted!
We launched TBH™on October 1
st
and it was such a fun day! The staff and I sat and watched the orders come in and then we had even more fun packing TBH™boxes. They are super cute and we hope you enjoy opening them as much as you love using our new products. We are all obsessed with the wipes – Spot or Gentle – they are both so good!! The Spot Wash is also a fav – even my moody teenager Jack says its awesome and has been keeping his skin really clear. When your 16-year-old son compliments your work, you know you did good!
Monday reminded me of the old days at Fairy Tales. Jack was a newborn, I was working from our home and just learning how this new thing called Google worked. I would fax an order to Rob and then make him go pack it while I was on the phone to make sure it went out asap. It was so fun and exciting and I'm so happy to be doing this again. Please be sure to visit the site, try something, follow us on social (@tbh.kids on Instagram) and send us your feedback, we love to hear from you.
www.tbhkids.com
Another first? Last Saturday while at Jack's football game, I heard, "and the tackle was led by Jack DiLo." What???? I agreed to 2 years only of football and frankly, assumed he'd sit on the bench. If you had asked me what is a top 5 phrase you will NEVER hear about your kid, that would be one of them. However, I was secretly so proud. He's really growing up to be a fine young man- OMG that sounded so corny, he's going to be so mad at me. New?
So, here we are already in October. We had thousands of outbreaks reported on the lice map and a million bottles of Rosemary Repel® sold. I'd like to thank the amazing Fairy Tales team for all their hard work and the long hours in the office during BTS. Most of all, I'd like to thank you, our amazing customers. We are now considered an "evergreen" brand – been around a long time and we're not going anywhere! It's been a long, strange road from those days of rocking Jack in his crib to football games and being on shelf in Target, Walmart, Ulta, CVS etc. While I wouldn't change a minute, I really do need a nap. Oh, but I just launched a new line – at least I don't have a newborn this time around!!!
Risa Barash,
Founder & Owner & the entire Fairy Tales Hair Care Family