Mar 03, 2022
The Complete Guide for Curly Hair Kids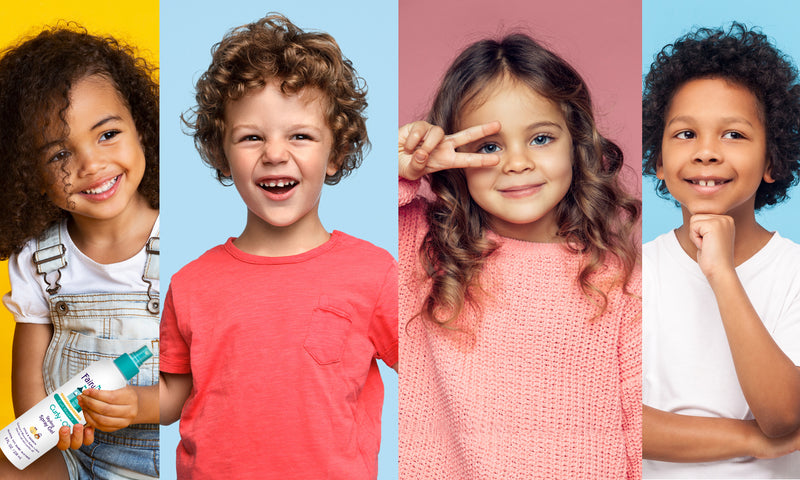 Like your toddler, their curly hair is undoubtedly full of secrets. Also like your toddler, taming their hair is no easy task. Even if you have curly hair yourself, it is difficult to understand it entirely. Whether or not your child inherited their curls from you or a distant relative, you may be wondering how to fully embrace, take care of, and maintain your child's waves, curls, and corkscrews. Let this article serve as your Ultimate How-to Guide for Curly Haired Kids.
Even if you did have curly hair as a kid, the market has changed, and the products have too. What once worked for your hair, may not be the best option today. You may need an update on what products are available now and how they will benefit your toddler's curl type.
Here's what you can expect:
Identifying your child's curly hair type

How to shampoo (or not)

Best styling products for your child's curly hair

Styling tools

Day 2 hair care and styling

Nighttime routine tips

Detangling your child's curly hair
Hate to Type Cast BUT... The Importance of Knowing Your Curly Kid's Hair Type
Curly hair often gets lumped into one large category and thrown a one-size-fits-all approach. Could you imagine how lost you'd be following the wrong directions to a specific location? It just would not work. The same is true if you're using products meant for another curl type.

Identifying the curl type of your curly hair kid
Get the most out of your child's curly hair by identifying their curl type.
There are four types of hair textures (1-4) ranging from straight (1) to z-curls and kinky (4). Each category has subcategories A through C. Curly hair is a general term that describes textured hair ranging from waves to z-shaped coils.
To identify which type of curl your child has, look closely at the hair follicle. Curly hair follicles are oval shaped or asymmetrical, while straight hair follicles grow evenly in a round shape.
It's also not unusual for your child to have more than one curl type on their head.
The best time to look at your child's hair is when it is wet.
Curl Types:
Type 2A: Type 2A hair is fine with a tousled texture. It's easily straightened, lacks volume at the root, and curls towards the ends.
Type 2B: Type 2B hair is flatter at the crown and has more defined S-waves throughout. Type 2B hair has thicker strands than 2A.

Type 2C: Type 2C hair is more prone to frizz; the S shape is more defined and begins at the root.
Type 3A: Type 3A hair has large, loose curls and is fragile to the touch. Touching too much will break up the curls and cause frizz.
Type 3B: Type 3B curls are ringlet curls with bounce. They are also more prone to dryness.
Type 3C: Type 3C curls are tightly packed corkscrew curls. In humidity type 3C curls frizz quickly.
Type 4A: Type 4A curls are densely packed, springy, s-shaped coils that require maintenance and daily hydration.
Type 4B: Type 4B hair is fragile and extremely prone to dryness. This type of hair is characterized by densely packed, z-shaped curls instead of coils.
Type 4C: This type of hair is even more fragile than 4B. Its tightly packed zigzag pattern is prone to shrinkage.
Which curly kids hair products are best for your kid's curl type
With the right products for your toddler's curly hair, their hair will be more manageable and more beautiful. There are several types of products and ingredients that enhance and nourish different curl types. Here is what to look for:

Gels – Applied to damp hair, gels provide moisture and strength for curls, waves, and coils. Gels will often weigh down Type2 hair and should be avoided.

Cremes – Styling cremes provide a softer and stronger curl pattern; type 3 and type 4 hair will benefit from styling cremes.
Mousse – Mousse holds shape, adds volume, and provides moisture without weighing hair down. Mousse is great for those with type2 hair.
Oils – Hair oils moisturize and nourish hair helping to reduce frizz, prevent damage and split ends. Look for natural oils including argan oil, shea butter, and coconut oil.
Leave-in conditioner – Helps keep hair hydrated in between washing; great for type 4 hair.
Humectants – Humectants are moisturizers that pull moisture from the air and draw into hair. This can make hair soft and supple, help the curl retain its shape and bounce, and make it less likely to break.
Understanding Your Curly Hair Kid's Hair Porosity and the Importance of Moisturizing

Hair porosity is the ability of your hair to suck up and retain moisture. Highly porous hair has many holes on the cuticle and easily draws up moisture from the air or moisturizing products.

If you're not sure how porous your child's hair is, you can do the porosity test. Get a small bowl of water. Lay a few strands of your child's hair in the water. Wait for a few minutes. If the hair floats it has low porosity; if it sinks, it's highly porous.
Choosing the best curly hair products for moisturizing
Since curly hair naturally tends to be dry, you'll want to choose products that moisturize and not weigh down the hair.

Natural oils and butters are perfect for moisturizing the hair without weighing it down. Look for ingredients including shea butter, murumuru butter, cocoa butter, avocado butter, jojoba oil, sunflower oil, and argan oil.
Water and aloe vera juice work well at retaining moisture. And for damage repair, look for proteins like wheat and quinoa.
Curly haired kids moisture sappers – ingredients to avoid in kids' curly hair products
These ingredients will not do your toddler's curly hair any favors. Some will sap the moisture while others encourage frizz.

Sulphates – Sulphates are used in soap and hair products to create lather. However, you don't need a lather to thoroughly clean hair. Sulphates also tend to strip hair of natural oils. Look for products that are sulphate free. Sulphates to avoid include sodium laureth, myreth, or lauryl sulfate, sodium C14-16 Olefin sulfonate, ammonium laureth or lauryl sulfate, and sodium cocoyl sarcosinate.
Phthalates – This controversial group of chemicals could lead to several health conditions. Because of this most product manufacturers have already removed phthalates from their products.
Silicones – In hair products silicones coat the hair and help tame frizz. On the other hand, they also lead to product buildup which can weigh down hair making it appear limp and frizzier over time. Silicones to look for include amodimethicone, dimethicone, dimethiconol, cyclomethicone, cyclopentasiloxane.
Mineral oil and waxes – Mineral oils and petroleum oil weigh down hair, and waxes (bees wax and candelilla wax) are difficult to remove and cause buildup. Waxes require deep cleansing regularly which is not recommended for curly hair.
Parabens – Parabens are controversial because they're believed to cause cancer. However, this is not well-supported by research.
Alcohol – Products containing alcohol are very drying to hair. Some alcohols to avoid are isopropyl alcohol (IPA), denatured alcohol, ethanol, isopropanol, propyl alcohol, and SD alcohol 40.
How to Tame the Frizz for Your Curly Hair Toddler

Little kids may be oblivious to their frizzy hair. That doesn't mean it shouldn't be tamed. The key to frizz prevention is locking in moisture and limiting damage.
What causes my curly hair kids frizz
Curly and wavy hair are both prone to drying. Combine that with the wrong products and styling tools, humidity and damage and frizz is bound to happen.

If your child's hair is highly porous where the cuticle is raised instead of flat, the hair shaft is susceptible to moisture penetration. If their hair is dry and the weather is humid, the hair shaft will suck up the water from the air causing the hair to swell and frizz.
Curly hair kid's products to maximize moisture
The best way to prevent frizz is to make sure your child's hair is never dry and always moisturized. You can do this by creating a daily haircare routine that includes natural products containing butters, oils, and non-drying ingredients as listed previously. Make sure you don't over wash their hair; aim for washing with shampoo 1 to 3 times per week. Avoid using heated styling products and air dry whenever possible. Remember to get frequent trims to prevent split ends which tend to frizz up.

Additional tips to keep your curly haired kids frizz at bay
While curly hair products are the forefront of frizz prevention, there are some simple steps you can take to further prevent the poof:

Try a satin pillowcase

Use a microfiber towel or cotton t-shirt to towel dry their hair

Try a diffuser when blow-drying

Avoid touching hair often

Never detangle hair when it is dry, always wet

Use a wide tooth comb, fingers, or special detangling brush to detangle curly hair

Spritz hair with water to add back humidity and apply a bit of styling product before detangling
Good Hairstyles and Accessories for Your Curly Hair Kids

Toddlers don't make it easy to style their hair. Sometimes it's easier to let them leave the house with a mop on their head. While the latter is appealing, try some of these easy hairstyles and accessories that will not take longer than a few minutes of your time in the mornings.
Hairstyles
When thinking about how to style your child's curly hair, consider styles that limit breakage like loose braids, messy buns, and ponytails.

To tame frizz, consider box braids, braided ponytails, cornrows, or using product to sleek the front part of their hair.
Accessories
When choosing accessories, look for products that will not damage the hair including satin, headbands, soft scrunchies, and spiral or coil hair ties.

Special Hair Cuts and Special Hair Tools for My Curly Hair Kid
When taking your curly haired kid for a haircut remember to consider their curl type as well as their lifestyle before taking to the scissors.

Hair Cuts
If their unruly hair looks cute, the best thing to do is have their ends trimmed to prevent split ends and let their curls form naturally. Otherwise, a layered bob works well for curly hair to allow the hair to relax and the curls to bounce up. Mid-length bobs are great for young girls as it's long enough to put up or braid when needed. Avoid blunt haircuts as this can make the hair look unnatural.

Be sure the hairdresser cuts their hair dry so you can see the length it will be right away. And avoid using a razor to cut curly hair as it damages the curl causing it to splay.
If your child has or wants bangs, have the hairdresser cut them dry. And longer is better. There's nothing you can do about bangs that are too short, but too long can easily be trimmed or pinned back.
How Often Should My Child's Curly Hair Be Cut?
Keeping up with routine trims is important to manage split ends, prevent breakage, and avoid frizz. Aim for regular haircuts every four to six months. Not only will this help keep your toddler's hair looking healthy but will also help manage and avoid tangles.

What Styling Tools or Kids Curly Hair Products Should I Use for My Curly Hair Kid?
If you must use a heated hair styling tool on your kid's curly hair, try an ionic blow dryer with diffuser to protect the hair from heat damage and reduce breaking up the curls. You can also liven up curls using a curling iron.

Remember to use a heat protector spray and moisturizing shampoos and conditioners designed for curly hair.
No Poo? Co-Wash? What does this all mean for my curly hair kid?

No Poo means literally not using shampoo to cleanse the hair. Some people believe it helps prevent the hair from drying out from washing frequently. You can also try a "no-poo" which is a non-lathering cleanser that doesn't strip the hair and scalp of natural oils.

Co-wash means you swap shampoo for a product that both shampoos and conditions the hair in one or washing the hair with conditioner only. Like the No Poo method, co-washing helps prevent drying out from cleansing the hair frequently.
Should I use the no-poo method for my curly hair kid?
Kids with curly, super curly hair, mixed textured, coily, or super dry hair would do well with a no-poo cleanser, especially if you're OK with a product that doesn't lather.

Co-washing for my curly hair toddler?
The biggest difference between co-washing and no-poo is that co-washing products contain conditioner, or you could simply use conditioner to cleanse your child's hair.

Kids with curly, super curly hair, mixed textured, coily, or super dry hair would do well with a co-washing routine.
Co-washing saves time by not requiring a rinse-out conditioner after.
Tips for Curly Hair Kids Hair Care and Curly Hair Kids Products

Helping your toddler's curls thrive is an artform. Finding what works for your child and their curl type (as well as lifestyle) will take trial and error, and that's OK. See if some of these tips help you along the way.

Curly Girl Method – Is this right for my curly hair kid?
The Curly Girl Method was developed by Lorraine Massey – and is a hair care method that foregoes traditional hair care practices like using shampoo, combs and brushes, and heat styling tools, and instead believes in fostering the hair's natural curl with just conditioner and gel.

Your child's curl type will decipher how often you wash with shampoo, if at all, and the process for washing, styling, and products to use.
The Curly Girl Method not only avoids shampoo, combs, brushes, and heat styling tools, but also recommends staying away from products containing sulfates, non-water-soluble silicones, alcohol, and fragrance.
Followers swear by the results and often find a newfound love for their curls.
How often should I wash my curly haired kid's hair?
Regardless of how you decide to manage your kid's curly hair, the frequency to which you wash your kid's hair is based upon the type of curls they have.

Wavy hair, loose, and classic curls can be washed up to two to four times per week. Coily hair can be co-washed weekly and shampooed once per month. Tight curls can be co-washed or shampooed up to a few times per week.
If your child's hair feels dry, try washing it less often.
How to avoid tangles and detangle your curly hair kid
Try these tips to avoid tangles:

Gently comb through your child's hair with a wide tooth comb before washing

Avoid piling hair up on top of the head and massaging around as this leads to more tangles

If using shampoo, always use conditioner after. Consider using conditioner before too if you shampoo more frequently

Don't rinse out conditioner completely

Use your fingers to brush through wet hair and pat dry with a towel instead of rubbing the towel around on top of the head

Put your child's hair in a loose ponytail on top of their head before bed

Try a satin pillowcase
Try these tips to help detangle:
Never brush dry hair

Always use your hands or a detangling brush to get through damp hair only

Detangle when hair has conditioner on it

Use a leave-in conditioner with natural ingredients
Drying your curly haired kid's hair
Allowing your child's hair to air-dry is best. However, if you absolutely must speed up the process, using a diffuser on your blow dryer can lighten the blow to their curly tresses. The diffuser helps maintain the integrity of the curl and reduces the amount of heat that's directly applied to the hair. Always use the hair dryer on medium heat, never on high.

When using a towel to dry your hair, opt for a towel specifically made for curly hair or an old cotton t-shirt. Do not rub their hair with the towel, instead lightly squeeze or pat their hair with the towel or t-shirt until it's no longer sopping wet.
Try "plopping" your child's hair in a t-shirt or towel made for curly hair. Plopping is gathering their hair on the top of their head then wrapping in a t-shirt or towel until dry. This helps the curls stay intact and reduces drying time.
Now that you've decided how you want to manage your child's curly hair, it's time to arm yourself with the products that will ease the process. Fairy Tales Hair Care Curly-Q shampoo, conditioner, and spray gel were designed for kids with curly hair. Perfect for all curl types – the Curly Q line helps detangle, define curls, and tame frizz. Pick up your set today!
xx

Risa Barash,
Founder & Owner of the entire Fairy Tales Hair Care Family