Jul 27, 2021
Tis the Season: Back to School Lice Prevention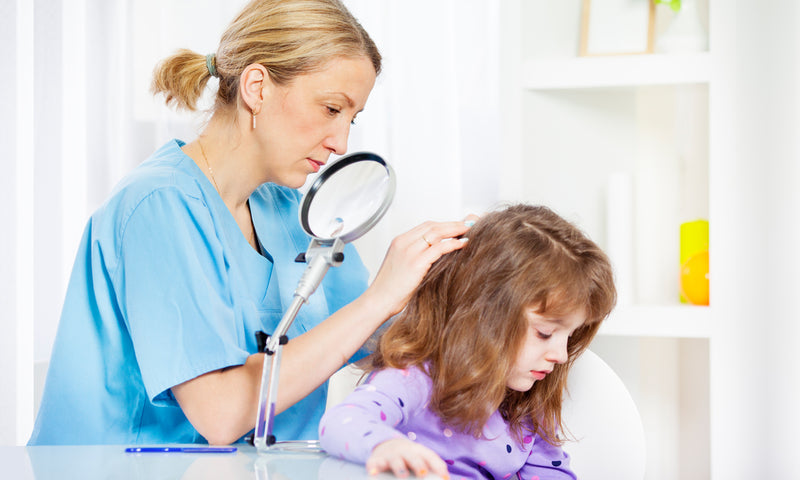 The first day of school will be here before you know it. The anticipation of what lies ahead for your kids is exciting, yet also nerve wracking. Will they like their teacher? Will they make a lot of new friends? And then there's the inevitable sniffles, runny nose, or head lice. There's plenty to be nervous about with the upcoming school year, but head lice isn't one of them. Here's our best advice to help prevent your child from bringing home lice.
Head lice are tiny little bugs that take up residence on the human scalp, most often of children. Having an infestation of head lice doesn't mean you have poor hygiene; in fact, they don't discriminate against clean or dirty hair. Head lice are transferred from one person to the other by direct contact from the hair of one person to another. When kids play contact sports, share helmets, or even give each other hugs, this is an opportunity for head lice to spread. Though head lice are annoying and itchy, they don't carry disease or viral infections.
The best way to prevent head lice is to avoid close contact. Since this isn't easy, especially for kids, try these tips to help your kids learn ways to prevent the spread of head lice this school season.

Try an Up-do!

Little girls love braids and ponytails. Did you know some of your child's favorite hairstyles actually do double duty? Not only do they keep your kids' hair out of their face and look pretty, they also help prevent the spread of head lice. Standard braid, fishtail braid, French braid – all good ways to keep long hair confined and out of the way. You don't have to be a hairstylist to do any of these up-dos on your children. A quick Internet search will provide video tutorials on how to master these techniques. 

Sharing Isn't Always Good!

Though it may seem counterintuitive to now have to teach your child NOT to share after so many years of the opposite. It's important to remind kids that sharing personal items like a comb, brush, hats, scarves, ear buds, hair accessories and sporting helmets can all provide an opportunity for head lice to transfer to other children – even between siblings. Get your kids their own hair/head items and label them with their name so they're clear on which ones are theirs.

Teaching Your Kids Prevention
On that same note, even hanging your child's coat next to another's that may have head lice is an opportunity for transfer. Teach your kids ways to prevent the spread of head lice including: 

Avoid head-to-head contact – recess, P.E. and team sports that have close contact should be avoided

Avoid shared spaces – cubbies and lockers are an opportunity for lice to transfer from one personal item to another

Refer back to the student health checklist to ensure you and your children are doing their part in preventing the spread of head lice
Taking measures to prevent kids head lice is important. A simple up-do to keep hair confined and teaching your kids to separate their belongings are easy ways to do your part. Your next line of defense is by using Fairy Tales Hair Care's Rosemary Repel daily lice prevention products before your kids head out the door. The natural herbs and plant extracts provide a barrier against head lice while locking in their favorite hairstyle. Arm your kids with the best in head lice prevention and order your Fairy Tales lice prevention line today!
Risa Barash,
Founder & Owner of the entire Fairy Tales Hair Care Family