Apr 20, 2021
Ultimate Guide to Choosing the Best Lice Prevention Shampoo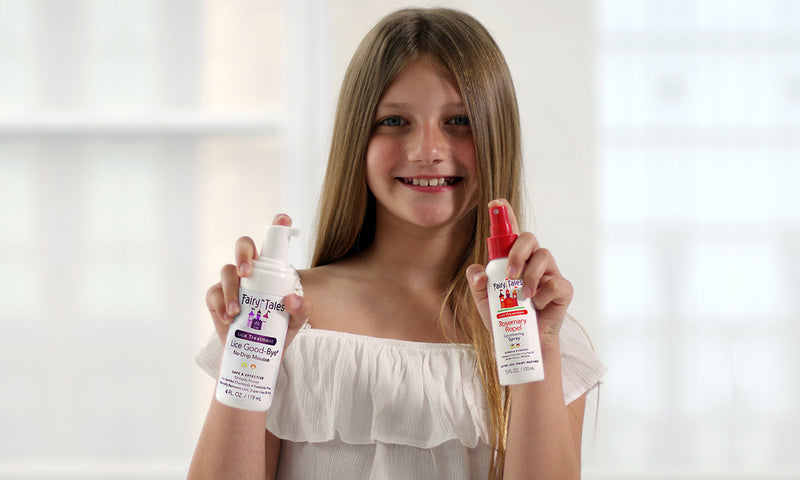 There is nothing more frightening to parents than when that lice letter comes home from the school nurse saying, "There is lice in the classroom."  A parent doesn't know if they need a lice shampoo, a lice prevention shampoo or a flame throwing torch to remove head lice! However, armed with a little knowledge of what is lice prevention vs. lice removal, parents can make an educated choice to take care of head lice during back to school and all year round. 
LICE TREATMENT SHAMPOO FOR KIDS
Shampoos to treat head lice are wide-ranging.  There are two main routes to take when selecting a lice shampoo.  The first is a chemical pesticide product.  These tend to work but come with some concerns (read below!).  The second approach is a natural lice treatment.  These typically involve loosening the nit glue, dehydrating the adult louse and/or combing out the lice with a specific lice comb and then using a plant-based lice prevention spray to help keep the lice away.  These tend to be a lot safer and gentle, but still work very well.  We'll go in depth on this natural lice-killing approach since it's the most popular.
CHEMICAL PERMETHRIN LICE PRODUCTS
One of the most popular chemical lice treatments on the market uses harsh ingredients such as permethrin.  While permethrin and other pesticide sprays have been shown to work, concerns about their effect on humans led to them being banned in Europe and other parts of the world and in the US they are classified as a restricted use pesticide.  In addition, new studies have shown that super lice are now immune to permethrin making these products ineffective as a lice treatment for that particular type of lice.  
NATURAL LICE TREATMENT ALTERNATIVES
Natural lice treatment shampoos work by smothering lice and essentially suffocating them.  One of the newest and most effective treatments is called an enzyme lice shampoo. Enzyme lice removal shampoo will help stun the bug then work to dissolve the body of the louse as the job of enzymes are to break things down! Another great feature of an enzyme lice removal shampoo is it helps to dissolve the sticky nit "glue" that is found about ½ inch from the top of the head. Nits take 7 to 10 days to hatch, so a good lice removal comb is imperative to remove the nits as well as live lice. Technique for lice comb outs vary but it is important to go through small sections of hair using a metal comb with rounded edges. Using a top-of-the-line lice removal comb such as the Fairy Tales Nit Removal Comb will help catch all the tiny nits and help remove live lice from the scalp with ease. 
LICE PREVENTION SHAMPOO
Once the lice have been eradicated, parents should use a lice prevention shampoo to ensure those nasty little buggers stay away. What are the most effective ingredients in a lice prevention shampoo? Natural herbs have been shown to help prevent lice and are safe and gentle to be used daily in the right formula.  When we invented the very first lice prevention shampoo, we formulated it with a botanical blend of tea tree, rosemary, peppermint, citronella and geranium oils into our lice prevention spray and lice prevention shampoo. Independent lab studies have shown these ingredients to be over 96% effective when used together to help prevent lice. The best lice prevention shampoo and lice prevention spray will also have gentle ingredients to cleanse and condition the hair as well with the bonus being the natural herbs which have been shown effective in lice prevention.  This is what makes the Fairy Tales line so special – it not only is proven to help repel head lice, but the formulas are made for everyday use and are perfectly safe for kids and adults. 
DO LICE TREATMENT SHAMPOO AND LICE PREVENTION SHAMPOOS HAVE SIDE EFFECTS?
Natural lice treatments do not have any side effects and can be used repeatedly to make sure all lice and nits are removed.  Remember, it takes 7-10 days for a nit to hatch so removing the egg is imperative.  A good, natural lice treatment will help dissolve nit glue and help stun the bug, but only chemicals kill things, so don't expect the lice to up and die on contact.  Remove lice with a good lice comb and check the head every night for a week and you will be good to go! Lice prevention is a year-round necessity for school age kids.  
HOW TO USE LICE PREVENTION PRODUCTS
You want to look for a lice shampoo, a lice spray and a lice conditioner that will not only keep the lice away, but you always want these lice prevention hair care products to cleanse, detangle and keep your child's hair soft and tangle free as well as free from head lice! Salon quality hair care for kids is not a luxury and Fairy Tales Hair Care's Rosemary Repel line is perfect for everyday use. We recommend using the lice prevention spray at night to help detangle and again the morning before school, camp or daycare.  Spray the "hot spots" where lice usually lay their eggs – behind the ears, back of the neck and part line.  The Rosemary Repel Lice Prevention Spray is safe for every day use and can be sprayed on backpacks, jackets, sporting equipment, hats and even sleep mats.  The scent of the product smells clean and fresh, but lice don't like the herbal smell and will seek out a different location to lay eggs.  

Knowing if your child has lice is the first step in determining if you need a lice removal shampoo and a nit removal comb right away! Lice removal kits, like the Lice Good-Buy Survival Kit, contain an enzyme shampoo for lice removal, the bestselling Nit Free Terminator Lice Comb as well as a sample size of the lice prevention spray.  
Rosemary Repel Lice Prevention Spray is recommended by parents, teachers, school nurses and pediatricians as it has been proven to prevent head lice.  A Spray a Day Helps Keep the Lice Away!
Risa Barash,
Founder & Owner of the entire Fairy Tales Hair Care Family