Sep 27, 2021
We know where the lice outbreaks have started...Do you?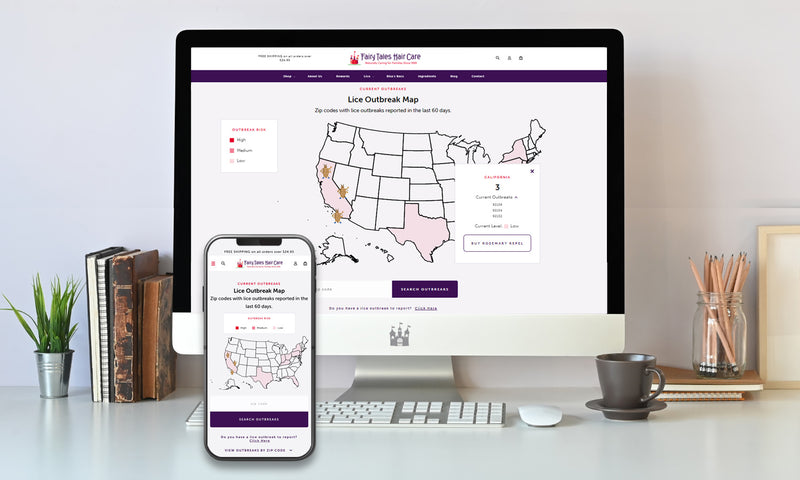 Happy September! Or is it a happy September?? Honestly, I'm not sure and I am guessing most of you feel the same way.  In pre-COVID times, back to school was stressful enough, right? Is my child going to have any friends, like their teacher, eat lunch and not paste, etc. But now, the fear of COVID in our little ones along with the need to wear masks all day long is just so over the top stressful.  I keep waiting for the end to allow us to move on and now I think there is no "end", there's just a new reality.  So, how do we function in this new reality? How do we stop worrying and trust science?  
What a strange back to school it is! I know that most of our Fairy Tales kids are back in school and I can't imagine how stressful that is for everyone.  I hope you are all staying safe while our kids get back to the classroom – too much away time just can't be good for our little ones, can it?  We here at Fairy Tales Hair Care and TBH Kids are doing what we can to take just one annoying worry off your plate, head lice.  In the grand scheme of things, lice are not deadly – just super annoying, expensive to treat and a pain to deal with! We know that lice outbreaks have started happening in many states and we see an uptick in orders from certain regions.  Our Lice Alert Map is a great way to check your area for an outbreak.  Submissions are done via zip code and are always anonymous! I understand that there are many more frightening things happening in our world today, but I will guess if just one thing can get checked off the "oh sh*t" list, it was a good day. 
So, we want to hear from you! Please share with us how you are coping with the stress of kids going back to school? What is your favorite stress reliever? We hope to publish some of your suggestions on our Facebook and Instagram sites so stay tuned. Just need to vent? You can send that to me as well risa@fairytaleshaircare.com  
Be well, stay safe and remember – a spray a day helps keep the lice away!
Risa Barash,
Founder & Owner of the entire Fairy Tales Hair Care Family