Oct 05, 2023
🦇 Which hair-raising Halloween hairstyle will you try?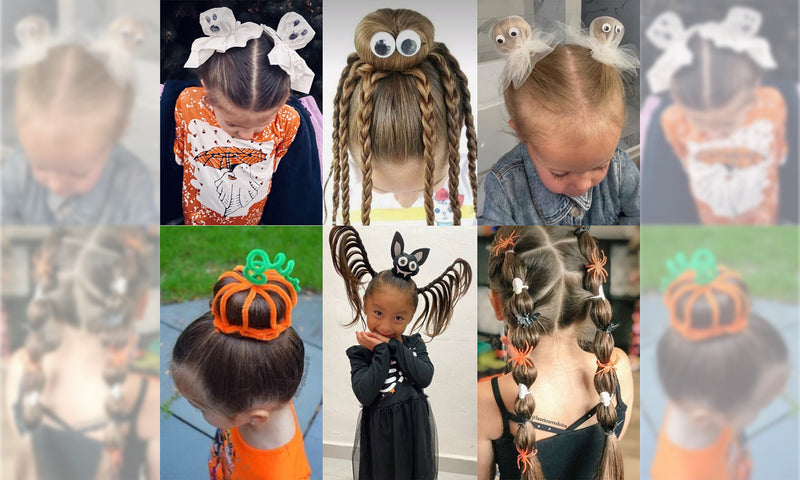 Creating Halloween-inspired hairstyles for kids is a fun and imaginative way to celebrate the holiday. Here are some easy spooktacular styles to delight kids and parents alike:
SPIDER CRAZE. Nothing says Halloween better than bright-colored plastic spider rings. Put them to good use this year by adding them to your child's braids. They are easy to thread through while either doing normal plaits or French braiding. Simply use a long-handled comb to help pull the hair thru the spider rings as you go.
SPIDER BUN. We've all seen the simple, silly spider bun! All you'll need to complete this look is black pipe cleaner, hair clips or bobby pins, a black pom pom, and some googly eyes. Simply make a neat bun on the crown of the head, secure the pom pom (with googly eyes glued onto it) to the middle of the bun, and secure the legs on each side to make a silly spider!
MONSTER MOP. Perfect for last-minute and/or lazy types, all you need for this spooky style are some stick-on eyes and a messy top-knot.
SPIDER WEB BUN. Start by brushing the child's hair to remove any tangles. Gather the hair into a high ponytail and secure it with an elastic band. Divide the ponytail into several sections and braid each section loosely. Wrap the braids around the base of the ponytail to form a bun and secure them with bobby pins. Using black hair spray or temporary color, draw a spider web pattern on the bun. Add a small plastic spider for an extra spooky touch.
PUMPKIN PIGTAILS. Part hair down the middle to create two equal sections. Create two high pigtails and secure them with elastic bands. Twist each pigtail into a bun, forming a pumpkin shape. Secure with bobby pins. Use orange hair spray or temporary color to color the buns to resemble pumpkins. Attach green pipe cleaners or small artificial leaves to the top of each bun to mimic pumpkin stems.
VAMPIRE BRAID. Part  hair down the middle and create two French braids on each side. Start from the top of the head and braid down to the ends. Secure the ends of the braids with small elastic bands. Use white face paint or hair chalk to add streaks of white to the hair, giving it a spooky vampire touch. Optionally, add plastic vampire fangs to complete the look.
PUMPKIN SPICE BUNS. Create two high buns on the sides of the head and secure them with orange hair ties or scrunchies. Add a green ribbon or hair accessory on top of each bun to resemble pumpkin stems.
WITCH'S BROOM PONYTAIL. Part the hair down the middle and gather it into a high ponytail. Secure it with a black or brown hair tie. Attach a small toy broomstick or craft a broomstick shape with brown construction paper and bobby pins to the base of the ponytail.
MONSTER MOHAWK. Create a wild, colorful mohawk by using temporary hair color spray in various vibrant shades. Style the hair in a spiked or messy manner for a fun and funky monster look.
UNICORN BRAIDS. Divide the hair into two sections and create two French braids, starting from the temples and working towards the back. Add colorful ribbons or hair extensions to the braids for a magical unicorn-inspired hairstyle.
Don't forget to capture these boo-tiful creations and share them on your salon's social media platforms with the hashtag #FairytalesHairFun. Your little clients will be thrilled to showcase their spooky styles!