Apr 14, 2021
Best Kids Swim Shampoo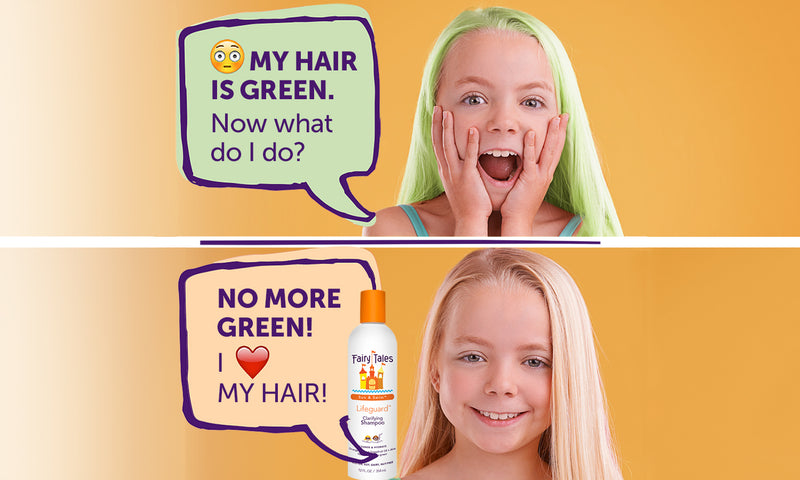 Chlorine, sea salts and minerals can damage the hair of kids and adults. Dry, brittle, split ends and green-tinged hair are the #1 problem swimmers have in the summertime.  Below are the best tips to prevent sun damaged hair and ensure soft, silky smooth locks all summer long.
TIPS ON HOW TO PREVENT GREEN HAIR FROM CHLORINE
Wet hair before going in pool – this literally fills up the hair shaft making chlorine hard to penetrate and damage the hair.
Use a conditioning spray before going in the pool, lake or ocean. Sun & Swim™ CoCo Cabana™ Leave-in Conditioning Spray has coconut oil, banana leaf extract to coat the hair and prevent chlorine from entering hair cuticle. CoCo Cabana™ also adds moisture and helps prevent the sun from making hair dry and brittle.
Rinse with water after getting out of pool to wash off chlorine, sunscreen and harsh minerals.
Use a gentle chlorine removal shampoo. Many are harsh and strip the hair leaving it dry and a tangled mess. Sun & Swim™ Lifeguard™ Kids Clarifying Shampoo uses citrus fruit extracts to gently remove chlorine green, sea salts and minerals.
RESTORE MOISTURE FOR CHLORINE DAMAGED HAIR
Use Sun & Swim™ Lemon-Aid™ Kids Conditioner with natural ingredients to replenish moisture, detangle and help seal off the hair shaft with good for you ingredients.  Aloe, jojoba, vitamins E and B will restore moisture, shine and manageability. After applying conditioner, comb through with a wide tooth comb and leave on for an extra minute or 2 for deep conditioning.  Rinse with cool water to seal the hair shaft. Apply Sun & Swim™ CoCo Cabana™ Leave-in Conditioning Spray to detangle and condition kid's hair all summer long!
For more information, please check out our most popular summertime hair care guide for kids and toddlers:
Mom's Buyers Guide for Kids Swim Shampoo
Because our kids are so active over the summer, swimming in the pool, ocean or lake and playing sports, parents like to wash their children's hair every night to help remove chlorine, sweat and grime.  It is very important to use gentle, sulfate, paraben, and chemical free shampoos and conditioners to prevent damaging the hair. Dry, brittle hair not only doesn't look attractive, but it can lead to split ends and a seriously short hair cut if not properly taken care of anytime of the year.  Natural ingredients and fragrances are a must and are just a few of the buzzword's parents should look for in kid's shampoos and conditioners to ensure soft, silky hair no matter the season.
Risa Barash,
Founder & Owner & the entire Fairy Tales Hair Care Family