May 10, 2023
Mom's Buyers Guide for Kids' Swim Shampoo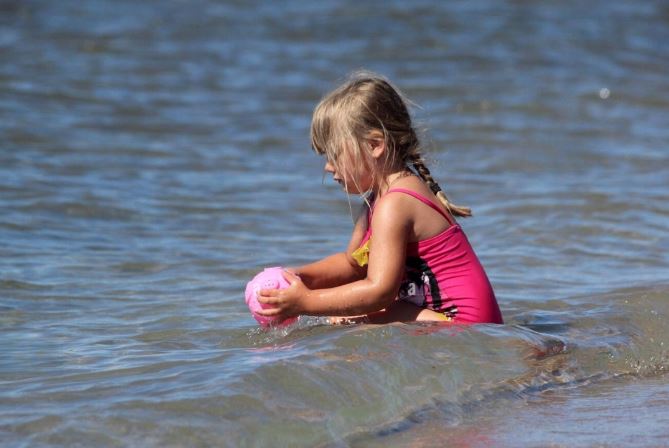 Do you ever wonder if your kids really need swim shampoo?
Well, swim season is just around the corner, and as parents, we'd love for our kids to have the best possible experience while splashing around in the pool or ocean. And this includes protecting their hair from chlorine and saltwater damage.
Your best bet would be to invest in a high-quality kids' swim shampoo that doesn't just stop at protecting but goes the extra mile to moisturize and nourish your child's hair. But if you wait until the last second to get one before your trip to the pool, you risk having your kids run wild and free in the store or throw tantrums in the car. 😬 The result? You'll be far too distracted to carefully read through the product labels or online reviews and pick the shampoo that would serve you and your kids well.
Trust me, I've been there, and it's not pretty! So let's find the perfect kids' swim shampoo for your little one now, so we can go straight to enjoying the sunshine and splashing around in the pool when summer comes around.
All Things You Need to Know About Kids' Swim Shampoo
Chlorine and salt water can leave our hair feeling like straw and looking like a greenish, frizzy, tangled mess! It's not a good look for anyone, let alone our little ones. That's where the magic of kids' swim shampoo comes in! With the right swim shampoo, you can keep your child's locks soft, healthy, and oh-so-shiny!
You're probably wondering if a regular shampoo would work just fine for your kid's hair in summer, and the answer is NO. While Regular kids' shampoos work to rid the hair of product and oil build-up alone, kids' swim shampoos have particular ingredients formulated to strip the hair of chlorine and sea salt; you may also refer to them as clarifying shampoos for kids.
Some of the best chlorine removal shampoos give excellent results when paired with moisturizing conditioners and oils, which help coat the hair and shield it against chlorine and saltwater damage. Here's how.
After washing with the clarifying shampoo, detangle your child's hair with a kids' swim conditioner and rinse thoroughly. Then, apply a kids' leave-in spray followed by a light carrier oil such as olive or avocado oil, coating the hair from roots to ends. These products will create a protective barrier against harmful minerals and ensure your child's hair stays strong and healthy, even after a day in the pool or ocean.
To help you make a more informed decision on your child's shampoo, we'll explore important factors to consider when choosing the best swim shampoo for your kids, how it works, and recommend the top available options. Let's get right into it!
3 Elements You Need in Your Kid's Swim Shampoo
Prevent
Did you know that every time your little one jumps into the pool, their hair is subjected to chlorine that bonds with their strands, creating a metallic build-up that just won't budge? Over time, the metallic residues or build-up results in dry, brittle, unmanageable hair, also known as crunchy hair.
To prevent this, use a kids' swim shampoo formulated with natural and non-toxic ingredients to help rid your child's hair of the metallic build-up from the pool or salt residues from the sea. And for the best results, as we said earlier, pair the shampoo with a kids' swim conditioner to nourish, hydrate, and soften your child's locks.
Protect
Are you looking to shield your little one's locks from the harmful effects of chlorine and sea salt? We're here to help! Keep an eye out for ingredients like citrus extracts (from grapefruit, orange, or lemon), citric acid, and sodium citrate when shopping for swim shampoos; they are natural chelators that combat mineral buildup and treat green pool hair. And if you need a top-notch recommendation, we've got the perfect shampoo that fits the bill just a little ways down the article.
Restore
And what if your child has green pool hair, and you're looking for a remedy? The perfect kids' swim shampoo prevents, protects, nourishes, and for the icing on the cake, it restores your child's locks so they look and feel healthier, moisturized, and hydrated pre- and post-swim!
Got Green Pool Hair?! Remove Chlorine Green
What Is Green Pool Hair?
When chlorine reacts with and oxidizes mineral build-up on your hair and metals in pool water, it forms streaks of greenish mineral residues. These residues bind to the protein in your hair, making it appear greenish. Green pool hair is more glaring in blonde and lightly-colored hair because the residues are more visible.
How Do You Remove Chlorine Green Pool Hair?
If you're a DIY momma, here's an article to help you learn how to make chlorine removal pastes and formulas from scratch!
You'll be surprised how many "ingredients" you've got sitting in your kitchen and drug cabinets that can help you restore damage from green pool hair. From apple cider vinegar to baking soda to aspirin, you can create a chlorine removal paste or formula that is effective and safe for your child's hair. 
And if you prefer to use kids' products for your child, here you go!
What's the Best Chlorine Removal Shampoo for Kids?
Introducing our Sun & Swim™ Lifeguard™ Kids Clarifying Shampoo — the perfect solution for protecting your child's hair from chlorine and sea salt. With natural chelators like grapefruit peel and orange flower extracts, our formula gently removes pesky mineral buildup without stripping away natural oils.
This shampoo is chock-full of natural ingredients like aloe and pineapple fruit extract that nourish, hydrate, and give off a yummy, juicy scent! Plus, it's color-safe for mommy's hair, making it a convenient addition to your family's hair care routine.
Here's how to make the most of the product.
Your child's hair deserves some TLC after all the splashing around in the pool, especially if they have green pool hair. Do well to stock up on the right products to nourish, hydrate, restore, and protect those locks. Our Sun & Swim™ line offers the perfect swim hair regimen to keep your little one's mane looking luscious and healthy. Trust me; their hair will thank you for it!
How to Get Rid of Crunchy Hair?
You've just learned about green pool hair, but unfortunately, there's more — crunchy hair. 😩
What Is Crunchy Hair?
Remember we said chlorine reacts with pool metals and mineral build-up on the hair, leaving behind residues that bind to hair proteins? They can only bind to these proteins because they've reacted with the natural sebum and oils that protectively coat the hair, which leaves it exposed to harsh UV rays.
Now, the hair is more prone to lose its moisture quickly, leaving it dry, rough, and brittle with a greenish hue from chlorine damage, all telltale signs of crunchy hair. And if you rub against the strands when dry, you'll find they feel rough and almost crunchy, unlike healthy hair, which is soft and smooth.
How Do You Treat Crunchy Hair?
The problem with crunchy hair is it's lost its ability to retain moisture, so remoisturizing the hair won't do the trick. The first step is to remove the chlorine and its residues with a clarifying shampoo for kids. And after, proceed to moisturize as usual.
Our Sun & Swim™ features only the best clarifying shampoo, swim conditioner, and leave-in spray formulated to deeply nourish and treat your child's locks with love and care to keep the moisture in and the crunch out. Check out our guide if you'd love to learn more about crunchy hair, including helpful tips, precautions to take at the pool or beach, and treatment options.
Kids' Summer Hair Care Roundup
We're sure you're well-equipped with all the knowledge you need to protect your child's hair this summer. To recap:
For more summertime tips and hacks, check out our other blog posts:
Check out our friend Dina Deleasa-Gonsar's blog post for Summer Sips and Hair Tips! Citrus Colada Drink