Dec 28, 2021
Hair Products for Toddlers with Curly Hair – Essentials & Accessories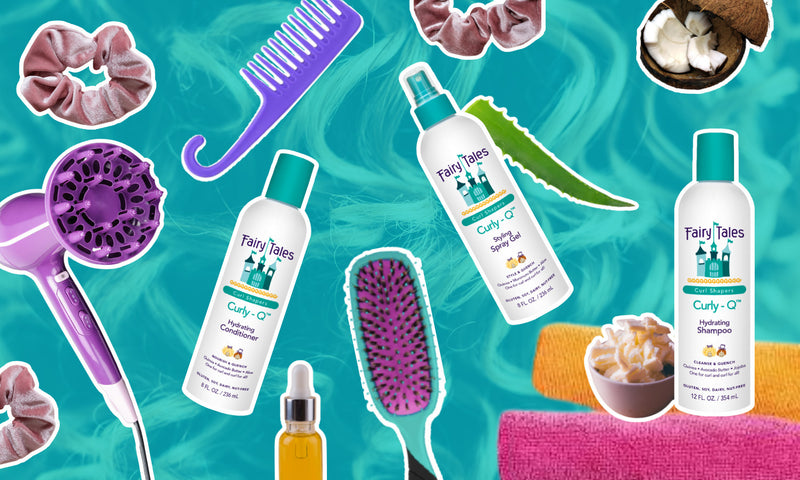 Caring for your little one's curls is no easy task. It doesn't help that toddlers are not interested in sitting still long enough to undergo a full hair-care routine. So when it comes to taming your toddler's curly tresses, you need all the help you can get!
Arming yourself with curly hair essentials, hair products, and accessories is the first step to gorgeous locks. Learning how to use them properly is the icing on the cake.
Essential Items for Your Kid's Curly Hair Tool Box
When it comes to hair tools, what you choose matters for curly hair. The essentials for straight hair are not the same as essential items for your kids' curly hair. For example, opting for any old paddle hairbrush may well for straight hair, however, that same brush will probably dismantle your toddler's curls and may even cause breakage.

Best Tools for Curly Hair
Wet brush – Curly hair is best brushed when wet, and a wet brush's thin, flexible bristles detangle hair strands with minimal pulling and breakage.

Detangling brush with stiff bristles – For major tangles, use a detangling brush with stiff bristles. Start from the ends and gently work your way up.
Wide-tooth comb –  These combs are perfect for people with curly, tangly, and thick hair because the space between each tooth allows the hair to easily flow through preventing further breakage and damage. Use a wide-tooth comb when your hair is wet.
Diffuser blow dryer – A blow dryer diffuser is a large, round plastic attachment for your hair dryer that distributes heat more evenly. It's perfect for curly hair because it keeps the natural curl pattern in tact.
T-shirt or microfiber towel – plopping your toddler's curly hair in a t-shirt or microfiber towel after washing will significantly cut down your drying time. Plus, the t-shirt or microfiber towel fabric will absorb moisture without creating frizz.
Silk pillowcase – One of the easiest ways to help maintain your toddler's gorgeous curls is to give them a silk pillowcase to sleep on. Silk pillowcases help hair retain moisture throughout the night and reduce frizz. Because silk pillowcases are so soft, they help retain the natural curl pattern.
Special Hair Products for Kids with Curly Hair
Moisturizers
Moisture is essential to the health of your toddler's curly hair. Since curly hair is more prone to dryness, moisturizing regularly is necessary. Focus on ingredients that moisturize, nourish, and protect the hair from dryness, breakage, and damage including natural butters and oils. Here's what to look for:
Quinoa – The nutritious benefits for quinoa go far beyond your plate. In fact, the same amino acids that nourish you inside, actually nourish and strengthen hair follicles too. It also helps strengthen and repair hair.
Avocado butter – Avocado is an excellent source of vitamins A, D, and E – all of which deep condition and moisturize hair. Avocado butter helps make hair soft and shiny.
Jojoba oil – Jojoba oil is extracted from the seeds of the jojoba plant. It's an excellent moisturizer often added to conditioners to protect against dryness, breakage, and damage.
Natural products
Curly hair needs a lot of TLC. Only the best ingredients will do. The more natural products emerge for nourishing curly hair, the more we agree that natural ingredients work best. Nature has provided an abundance of nourishing plants that give us everything we need to clean, strengthen, moisturize, and protect our hair.
Essential ingredients to look for include:
Honey

Coconut oil

Olive oil

Jojoba oil

Avocado oil and butter

Shea butter

Vegetable glycerin

Tea tree oil

Murumuru
Ingredients that help prevent frizz
Curly hair is prone to frizz – no matter the humidity level. Fortunately your child doesn't have to live with frizzy hair forever. There are natural ingredients that prevent and tame frizz helping to bring out those gorgeous curls. Here's what to look for:
Murumuru butter – Murumuru butter is extracted from the seeds of the Astrocaryum murumuru, a palm tree indigenous to the Amazon rainforest. Murumuru butter is rich in fats, specifically lauric acid, that penetrates the hair shaft allowing for better moisture retention, sealing of the cuticle, and damage from the sun, heat, and other harmful compounds. Murumuru butter also makes curls soft and shiny.
Aloe vera – Aloe vera's large spikey leaves contain a gel that contains nourishing properties for skin and hair. It's most commonly used to soothe sunburned skin. Aloe vera's vitamins and minerals moisturize and nourish hair follicles helping to smooth out frizz and protect against damage.
Quinoa – Not only is quinoa nourishing for hair, it can also add strength and hydration to dry, damaged hair. The strength and moisture quinoa provides for curly hair will help prevent split-ends and frizz.
Avoid sulfates
Sulfates are chemical compounds commonly used in hair care products to produce a bubbly lather. Curly hair is already prone to dryness, sulfates tend to strip hair of its natural moisture, something curly hair can't really afford. Choose natural products designed for curly hair with a sulfate-free message.
Accessories for Curly Hair Kids
It may seem silly, but not all hair accessories are created equal. Choose hair accessories that work well for curly hair – those that don't create tangles or cause breakage. And avoid hairbands with teeth.
Here's our go-to list of accessories for curly hair kids:
Stretch plastic ties – spiral hair ties that are great for any hair type. They don't pull or tug on hair follicles and prevent hair breakage and damage by spreading out the tension.

Bungees – hair bungees are a specialized single piece of elastic with hooks on both ends. They're perfect for curly hair because they manage hair without creating tangles.

Fabric wraps – hair wraps can keep hair out of the face while protecting the hair from damage and tangles.

Hairbands lined with satin – satin underneath the hairband helps protect the hair from frizz, breakage, and loss of moisture.
Taking care of your toddler's curly hair can feel like a job in itself. Arming yourself with the tools you need, will make this important job easier. You'll thank yourself the next time you get through your child's hair care routine tear-free.

If this article was helpful, please check out: The Complete Guide for Curly Hair Kids
Stock up on natural hair care products made for curly hair kids. Fairy Tales Hair Care Curly-Q kids shampoo, kids conditioner, and styling spray gel are just what you need to get started. Order your set today!

Risa Barash,
Founder & Owner of the entire Fairy Tales Hair Care Family