Jun 06, 2022
How to Prevent Your Kids from Getting Crunchy Hair After Swimming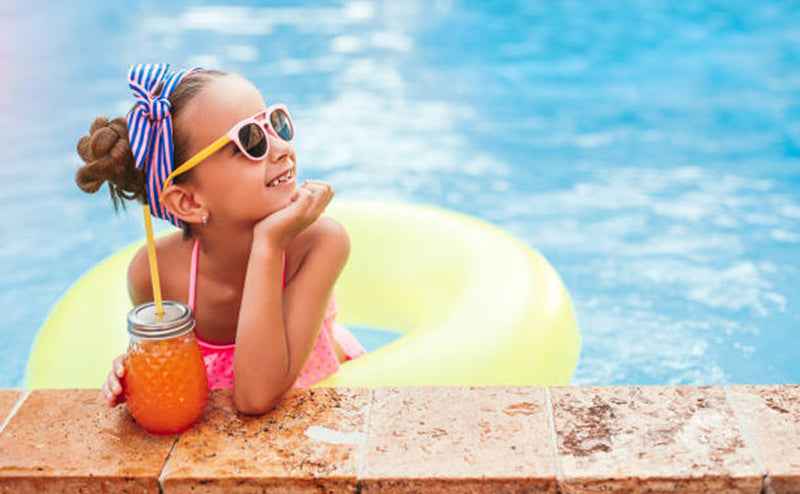 Who doesn't love summer days? Even snowmen love Summer; you can ask Olaf. During the Summer season, we enjoy extended daylight, green gardens, warm weather, loads of sunlight, and really high temperatures.
So, it's no surprise if you spend most of your time cooling off with the kids in chlorinated swimming pools or the ocean. But, you could cut your summer fun short by ending up with dry crunchy hair from swimming in the pool.
What is crunchy hair, what causes it, how can you prevent it, and how do you get rid of it? It's all in here.
Kid's Crunchy Hair A.K.A. Swimmer's Hair
Swimming has a lot of proven benefits for the body and offers a fun bonding time with the family, but it can be really hard on your hair, literally.
Swimmer's hair, crunchy hair, or dry, brittle straw-like hair is hair damage caused by the chemicals used to sanitize pools, especially bromine and chlorine. These chemicals react with your hair's natural sebum and oils that help nourish and protect hair. Thus, leaving the hair's cuticles exposed and prone to environmental damage from harsh UV rays.
When the hair cuticles are exposed, your hair tends to lose a lot of moisture fast. The result? Dry, brittle hair, further damaged by the sun's harsh rays and other chemicals in the pool, giving it a crunchy — and sometimes — greenish appearance.
After the hair loses its protection, it can easily absorb harmful metals, like copper and manganese, also found in the pool. Chlorine reacts with these metals to oxidize them, causing a greenish hue more noticeable in swimmers with lighter hair.
As scary as these all sound, it's nothing a little kids' swim conditioner and shampoo can't handle.
Is My Kid's Crunchy Hair a Big Deal???
Yes, it definitely is. Damage from sun exposure and chemicals in pool water makes your toddler's hair dry, crunchy, and in urgent need of moisture.
Crunchy hair is a nightmare to detangle, so it will be almost impossible to style your child's hair for a wedding, parties, and other occasions. And by the time schools reopen, your toddler's hair could be so damaged that you'd have to cut out the damaged parts. But it doesn't have to get that bad.
How can you smooth crunchy hair?
Moisturize your child's hair to replenish the lost moisture and bring it back to life. Use kids' swim shampoos to wash and moisturize your child's hair. Then, follow up with kids' swim leave-in conditioners containing added oils to seal all that moisture goodness into your child's hair.

Ensure to use only kids' hair care products that contain natural ingredients, like plant-based oils, aloe vera, and proteins. These ingredients will nourish, moisturize, and strengthen your toddler's hair.

Get regular trims (every 4-6 months) to cut off dead and split ends, and keep your toddler's ends healthy.

Have a healthy hair routine in place to prevent crunchy hair in the future.
Kids' Swim Shampoo – A Crunchy Hair Preventative Summer Necessity
Swimming can have your toddler's hair locked in a vicious cycle of losing moisture, absorbing chemicals, and turning green. Here's how you can prevent your child's hair from turning crunchy from pool water.
Use only the best kids' hair care products containing premium and natural ingredients to reverse the damage caused by chemicals, salt, UV rays, etc. Your go-to products must also include plant-based oils, like jojoba, olive, and castor oils and nut butters from shea nuts, coconuts, and almond nuts.

Another way to keep the crunch out is to rinse your child's hair immediately after exiting the pool or ocean, if possible, to remove the chemical residue formed by the chlorine reacting with hair build-up.

After rinsing the hair, use kids' swim shampoos and conditioners as soon as possible. They will replenish the lost moisture in your child's hair and keep it shiny and healthy.

To step up your toddler's hair moisture game, use a kids' deep conditioner or conditioning masque weekly. Your child's hair will thank you!
If this was helpful save yourself some time in choosing the right products with this article:
Mom's Buyers Guide for Kids Swim Shampoo
The best part is at Fairy Tales Hair Care, we have the perfect products to prevent and combat crunchy hair. So, head on to our Sun & Swim™ to grab the most moisturizing, strengthening, and nourishing kids' summer hair care products. You'll be amazed at the results.
Have fun, enjoy and stay safe!

Risa Barash,
Founder & Owner of the entire Fairy Tales Hair Care Family