Nov 19, 2020
Kids Curly Hair Mistakes to Avoid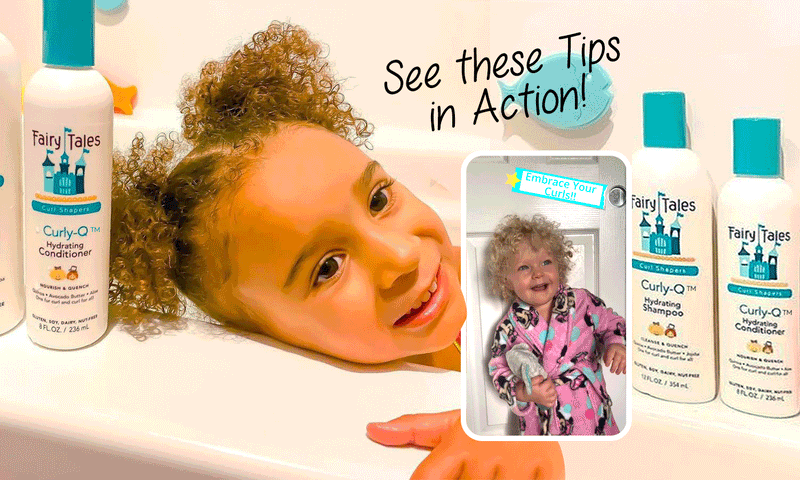 If you have curly hair, you know how extensive the care is and how much of a handful it can be. Unlike straight and wavy hair, kids curly hair often comes with its unique set of challenges, like the increased change of breakages, frizz, and dryness. Curly hair for kids comes in all curl types – 3A, 4B, 4C, etc. – chances are you probably encountered at least one of these challenges and are trying to find the right hair care routine for your child's curly hair. That's why we're listing some common mistakes you could be making when washing and styling your child's hair. 
5 Common Kids Curly Hair Mistakes & How to Fix Them
Kids curly hair care starts with identifying curl type, so it's very important to read up on what type of curls your child has. That way, parents can build a hair care routine around their curls' needs, but there are some common mistakes you can be making when washing & styling your child's curly hair.
1. Shampooing too often
Kids shampoo can be very harsh on curly hair. Since the ends of curly hair can get dry easily, shampooing often strips the hair of its needed natural oils, which can lead to breakage.

Tip: To avoid shampooing often, use a natural kids shampoo that promotes clean beauty to ensure it's free of sulfates, parabens, and any harsh chemicals. If your scalp gets oily, opt to use a dry shampoo.
2. Skipping conditioner
The ends of your kids curly hair is more dry than the scalp because their natural oils don't easily reach the ends as much as it does for straight hair. Because of this, using a kids conditioner is essential to your child's hair care routine. Without a conditioner, you run the risk of split ends and breakage.

Tip: Avoid breakage by applying a natural kids conditioner that is hydrating.
3. Not detangling with conditioner
When possible, try not to comb through your kids curly hair when it's dry. Combing through dry hair will make detangling painful and end up breaking your child's hair. It'll also cause more frizz.

Tip: Find a kids detangling conditioner to make detangling your child's hair easier and safer.
4. Using too many styling products
You don't want to go overboard and use so many products on your child's curly hair! Using too many products can cause build-up, which can cause dandruff and stunt hair growth. Build up can also make your child's hair look greasy.
Tip: Use a kids shampoo and conditioner that's suitable for your child's curl type. While washing and styling their hair, you'll start to find certain characteristics that you would want to nourish and help.
5. Wearing hairstyles too tight
While protective hairstyles are great for your child's curly hair care, if the style is too tight and left in for too long, it can cause hair loss.

Tip: To prevent styling too tightly, switch it up and leave your child's hair in a looser style for at least a week. Check back to see if it makes a difference!
If this was helpful, you may want to check out; The Complete Guide for Curly Hair Kids

To find natural curly hair products for kids, Fairy Tales Hair Care offers its own Curly-Q collection, which comes with a hydrating kids shampoo, conditioner, and styling spray gel. Packed full of a nourishing natural ingredients, such as quinoa, rice amino acids, aloe, and murumuru butter, Fairy Tales's hair products for kids will help define curls and improve manageability while moisturizing hair for lasting hydration and frizz control.

Stay safe, be smart and be well.
Risa Barash,
Founder & Owner & the entire Fairy Tales Hair Care Family