May 25, 2021
SUMMER CAMP PACKING LIST FOR KIDS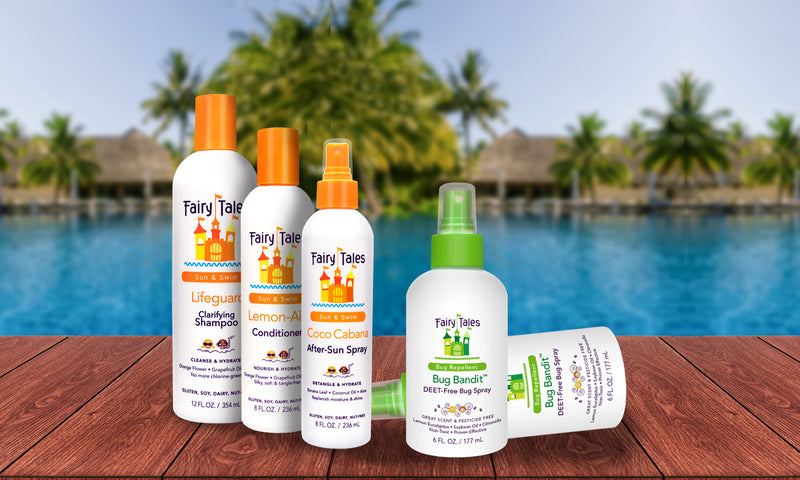 Top 2 Toiletries Your Kids Need In Their Camp Gear This Year
There's nothing like planning your child's summer camp – memories of your own camp experience come flooding back. The endless activities, moments around the campfire, and lifelong friendships are all we could hope for our kids. Now that you know where you're sending them, it's time to start curating their supplies. Most camps provide a packing list that includes towels, sheets, clothes, and the basics like bug spray, toothpaste, shampoo and conditioner. While clothes and linens are a no-brainer, picking the best mosquito repellant and kids shampoo may be another story. We've got you covered – here's what to look for when shopping for your kid's summer camp toiletries like insect repellant and hair care products.

Best Kids Shampoo
Needless to say your kids are going to be spending a lot of time outdoors in the sun, sea and sand this summer – all of which can be quite damaging to all hair types, especially for kids! Green hair tinge from chlorine, and dry, brittle hair from sea salts and minerals can have lasting effects on the health of your child's hair. Look for kids shampoo products that remove chlorine using natural ingredients instead of harmful chemicals. Moisture and detangling ingredients such as aloe, jojoba, panthenol and vitamin E will naturally condition, detangle and help keep kids' hair soft and manageable. You can find these natural ingredients Fairy Tales Hair Care's Sun & Swim Collection, which comes with a Clarifying Shampoo, Conditioner, and After-Sun Spray With a blend of Aloe, jojoba, vitamins E and B, these hair products for kids will help to gently clarify and condition all hair types.
Should I Use Deet or a Natural Bug Repellant
Pesky mosquitoes and other insects like gnats and no see-ums, arrive in full force in the summer months. They're often drawn to our kids leaving them at risk of itchy bites and whatever other potential diseases mosquitoes carry. While DEET is safe to use on children over 2 years of age, parents are often looking for a more natural solution like a DEET free bug repellant.

Natural Ingredients That Repel Bugs and Mosquitoes
When shopping for a DEET free bug repellent, look for ingredients including soybean oil, citronella, cedarwood oil, peppermint and geranium oils that help to keep the bugs away. Insect repellents that contain 2% soybean oil provide 1 to 4 hours of protection from mosquitoes when applied to the skin. Soybean oil is safe to use on infants and children. Natural ingredient bug sprays do work, but they do need to be applied more often than a DEET bug repellent, especially at night. Be sure to check out our Bug Bandit™ DEET-Free Bug Spray. It is a non-toxic and pesticide free blend of lemon eucalyptus oil, soybean oil, cedar bark, citronella, peppermint, and rosemary. It leaves skin feeling soft and never sticky. Safe for kids, adults and pets and a must-have for camp and any outdoor summer activities.
When packing for summer camp, creating a checklist can be helpful. Remember to include a natural kids shampoo that will keep kids' hair chlorine free and manageable all summer long, and natural bug repellent as well.
Risa Barash,
Founder & Owner of the entire Fairy Tales Hair Care Family