Jul 08, 2020
Summer Hair Care for Kids: Tips for Beautiful Hair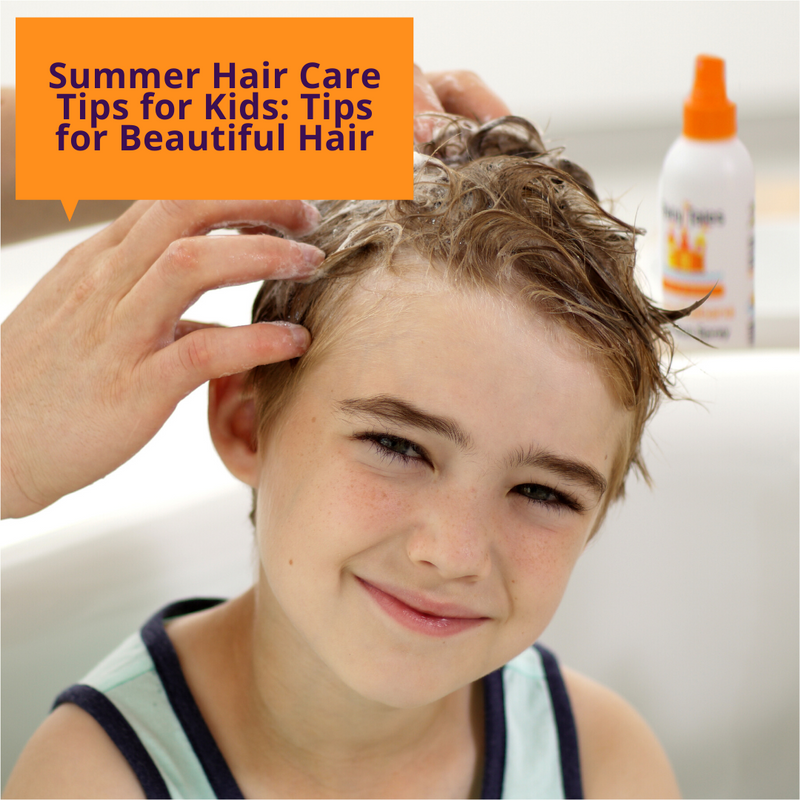 We all know overexposure to the sun can permanently damage our skin and leave us with a nasty, uncomfortable sun burn. This is why sunscreen is so important! But what about our hair? Those same UVA and UVB rays we try to protect our skin from are also damaging our hair. Prolonged exposure to the sun can damage the cuticle of the hair causing split ends, fizziness, thinning, dryness and discoloration. This goes for kids hair too! It is important to put together a summer time hair care routine for both you and your children to keep your hair healthy through the warmer months! Below are 5 summer hair tips and tricks to get you started:

1. Get a Summer Trim
Getting a trim and snipping off split ends is a great way to refresh your kid's style for the new season. Split ends and breakage could be part of the reason why you or your child has frizzy hair that only gets more unmanageable during the warmer months. Your hair also grows faster in the summer, so a second mid-season cut is also recommended. Keeping up with getting your kid's hair trim will keep their hair looking healthy and smooth!

2. Protect Hair from the Sun
Like we mentioned earlier, the sun can damage your kid's hair just like it can damage their skin. It is important to apply a hair care product that contains UV filters to prevent sun damaged hair. To protect both your hair and scalp, wear a hat or scarf on your head. A sun hat or baseball cap is perfect for the little ones to also help keep the sun out of their eyes and their hair tangle free!

3. Saturate Hair Before Going for a Swim
Dry hair is very porous and is always seeking moisture. This means when you jump right into the pool or the ocean, your kid's hair is going to soak up the water. If you saturate your kid's hair with fresh water or a leave-in conditioner first, it will not absorb as much chlorine or salt water. Bring a spray bottle of fresh water if you can't make it right into the shower to rinse hair after a swim as well.

4. Switch to a Hydrating Shampoo and Conditioner
During the summer, it is especially important to switch to a moisturizing shampoo and conditioner because of how often we tend to wash our hair when it is hot out. Opt for a clarifying shampoo to help remove nasty pool chemicals from your kid's hair, like the dreaded green from chlorine, and product build up. Look for natural ingredients such as Orange flower extract, grapefruit and lemon which gently cleanse damaged hair. Pair this with a conditioner with Aloe, Jojoba and Vitamins E and B to help restore moisture and shine. The right combination of natural shampoo and conditioner can help to protect and restore hair.

5. Skip Hot Tools
The sun is already damaging enough for your hair, this is why we recommend heatless styles for the summer months. Instead of blow drying or using a hair straightener, try slicking your kid's hair back while it is still wet for that sleek pushed back look. If you need your hair dry fast – use the cool setting on your blow dryer. To get that tousled summer hair look, split hair and two down the middle and braid while it is still damp. Let dry overnight or for a couple of hours. Finger comb through waves and you are ready to go! Leave braids in to keep kids' hair off their necks and out of their face.

Dealing with "chlorine green" in your child's hair?  You'll want to check out our famous:
Mom's Buyers Guide For Kids Swim Shampoo

Wherever you spend your time during the summer, it is important to protect and replenish your and your kid's hair from time spent in the sun. A natural shampoo and conditioner made to wash away nasty chemicals and replenish moisture to sun damaged hair are the perfect summer time combo. Add in an after-sun spray to seal the deal, and keep hair moisturized all day long. To protect your hair in the summer and get rid of chlorine and sea salt residue, check out Fairy Tale Hair Care's Sun & Swim natural products! Just like the rest of the Fairy Tales Hair Care products, our Sun & Swim line has no harsh chemicals, phthalates, toxins, parabens or sulfates. It is Dairy, gluten, soy and nut-free, is Cruelty free and made in the US. Color safe for mom's hair too!

Stay safe, be smart and be well.




Risa Barash, Founder & Owner & the entire Fairy Tales Hair Care Family