Jun 09, 2020
Summer Hair Care Tips for Kids: Protect Hair Before and After a Swim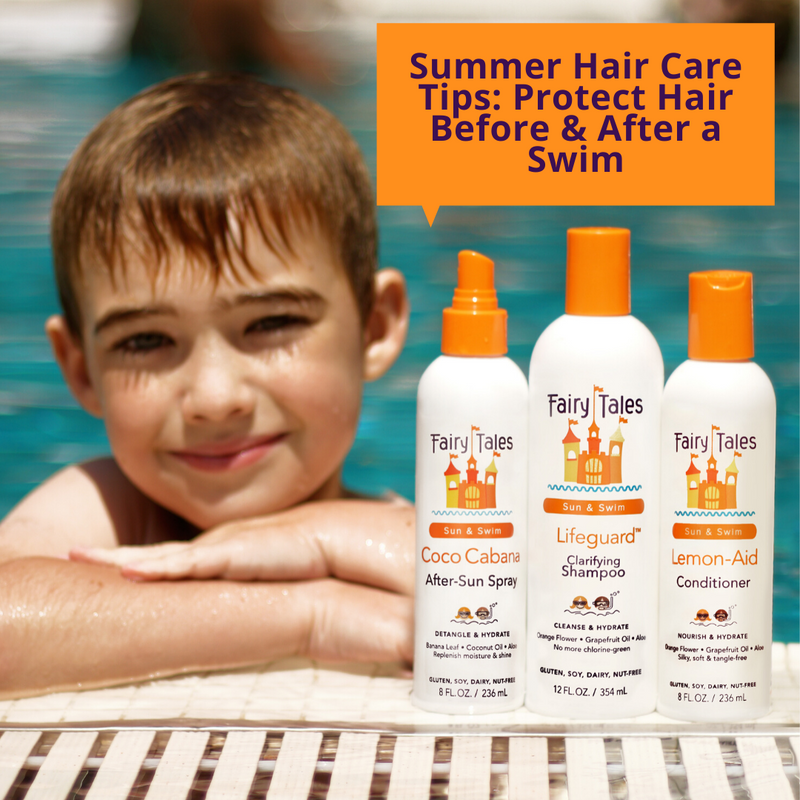 Summer means so many wonderful things for kids: going to the beach, playing in the sand, jumping through waves of saltwater, and having a blast under the hot sun. But summer really doesn't promote easy hair care for kids. Chlorine loves children's fine hair, and the buildup can cause tangling, brittle, sticky, and green hair from pool – a mother's nightmare. The sun can be very damaging to children's hair, scalp, and skin, so what can you do to protect hair from chlorine and sun damage? We listed some great hair products and tips that you can use to help!
BTW, if this is helpful, please be sure to checkout our most popular summer hair care article here: Buyer's Guide For Kids Swim Shampoo

Before Swimming
1. Thoroughly rinse kids hair with fresh water. Hair follicles will soak up what they can, so if your kid's hair is full of fresh water, there is less room for chlorine and other chemicals to permeate.
2. For girls and boys with long hair, tie their hair in tight, simple braid to help manage hair after their swim!
3. If your children prefer to play in the sand some more or hang out by the pool before jumping into the water, spray their hair with Fairy Tales Hair Care's CoCo Cabana After-Sun Spray to heat protect hair from sun damage! The CoCo Cabana Spray uses banana leaf extract and coconut oil to protect and defend against the UV rays.

After Swimming
1. Immediately rinse hair thoroughly to remove as much chemicals or salt as possible before they dry on the hair and scalp.
2. Wash your child's hair with the best clarifying shampoo, like Fairy Tales Hair Care's Lifeguard Clarifying Shampoo from the Sun & Swim collection. The Lifeguard Clarifying Shampoo deep cleans sun damaged hair with natural extracts, such as orange flower extract, grapefruit, and lemon, while simultaneously removing any chemicals or saltwater. When massaged into the hair, these extracts work to remove all dirt and salt buildup while promoting healthy hair.
3. Next, wash your children's hair using a hydrating conditioner, like Fairy Tales Hair Care's Lemon-Aid Conditioner, to restore moisture and continuously deep cleanse the hair to make sure there is no salt or build-up remaining. Lemon-Aid Conditioner is loaded with great natural ingredients, like grapefruit extract, lemon peel, and orange flower extract, to remove sea salts, minerals, hard water deposits, and chlorine. It also contains aloe, jojoba, and vitamins B & E to restore moisture and detangle hair.
4. Follow up with an after swim/sun treatment, like the CoCo Cabana After-Sun Spray, which also conditions the hair for some added moisture.

Summer can be hard on a kid's hair! That's why we want to give moms an easy hair care solution for the summer that's loaded with natural, safe ingredients. Check out the Sun & Swim collection!

Stay safe, be smart and be well.




Risa Barash, Founder & Owner & the entire Fairy Tales Hair Care Family