May 12, 2022
Summer Hairstyles For Girls That Take 5 Minutes or Less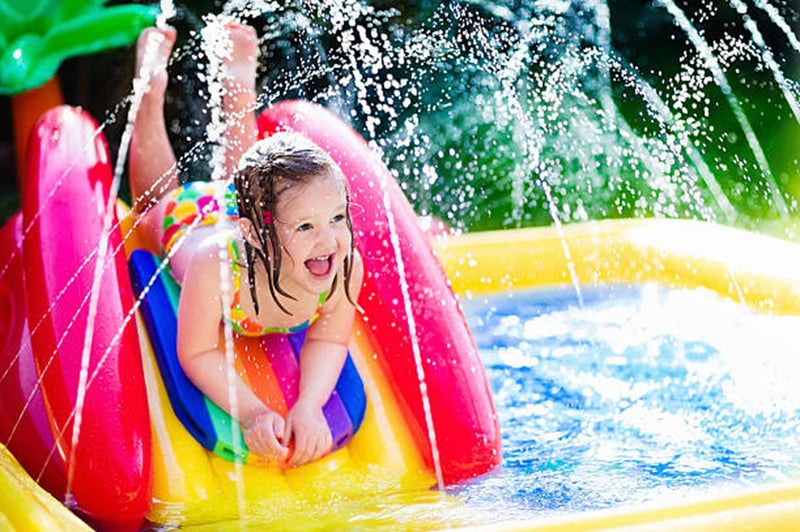 We're in the hottest season of the year, and one way to cool down on a hot summer day is to either take a trip to the beach or take a plunge in a pool. But, if you're not careful, a fun day at the pool can spell doom for your toddler's hair.
Leaving your child's hair down during a day at the pool, lake, or beach can lead to tangles, matted hair, and ultimately, hair damage and breakage. Your best bet is to put your kid's hair up in a messy bun or pull it back into a braid or ponytail. These styles will keep their hair in place and make it easier to manage post-swim.
Also, consider spraying with a leave-in conditioner, rinsing with cold water, or applying a kids' swim conditioner before styling. Following this step will shield your child's hair from the damaging effects of chlorine or saltwater. Maybe you don't know what style to make, and you'd like some style inspo. Here are some cute summer hairstyles for girls to protect your child's hair at the pool.
Kids' Swim Hairstyles to Protect Hair
Top Knot
Putting your child's hair in a top knot is one way to effectively secure the hair while swimming. It also protects the hair ends from damage due to friction. And since it's in one piece, you can easily take down the style for a post-swim hair wash. To put your child's hair in a top knot:
Put hair in a high ponytail.

Twist hair into a bun atop the head.

Secure the bun at the bottom with safe bobby pins or hair elastic bands made of satin material.
Basic French Braid
French braid = Regular braid + princess vibes. A French braid starts with the usual braiding process, but the difference is you add hair as you move downwards. To create this style:
Gather hair atop the head — like you're about to do a half-up half-down style.

Section off hair into three parts.

Begin braiding the three pieces.

Then, add a section of hair from the side you're currently braiding into the braid.

Repeat the process on the opposite side till you've gathered all the hair into the French braid.

For a final step, you can tuck the end of the braid into the hair and secure it with a bobby pin.
Double French Braid
The more braids, the merrier. To put your child's hair in a double French braid:
Split hair evenly in two sections.

Frenchbraid each section down the back.
A double french braid is a great Summer hairstyle for securing your child's hair while swimming and prevents tangles and knots post-swim.
Messy Pigtail Buns
Messy pigtail buns is an adorable kids' swim hairstyle for the beach.
With a wide-tooth comb, make a center part and split hair in half from crown to nape.

Tie each section in a high pigtail and pull the hair halfway through.

Wrap the tail end of the pigtail around the base and secure it with bobby pins.

Split the top pigtail loop in half and use an elastic hair tie to wrap it around the pigtail.

Pull out and loosen some hair as you like for a messy look.
Double Ponytail
To style your kid's hair in a double ponytail:
Split hair vertically, from crown to nape.

Gather each section and secure it into a ponytail.
You can also braid each ponytail, put them into a bun, and secure the ends into the side of the hair with a bobby pin.
Cascade Ponytail
A cascade ponytail is a regular ponytail with a creative twist to it. To style:
Carefully brush your toddler's hair into a simple high ponytail.

Use small hair ties every inch or two — or your preferred distance — along the ponytail to create a simple cascade.

If you like, you could puff up each section by using your fingers to drag it away from the ponytail as you move down to create a fuller look.
 Now that you've got your hairstyle ideas, you'll want to make sure you have the right products to nourish and protect your little ones hair.  Check out our most popular article on choosing the right products for summer hair care:
Mom's Buyers Guide for Kids Swim Shampoo
At Fairy Tales Hair Care, our products are specially formulated to protect and nourish your child's hair and give the best results for styling. So, head on over to our Sun & Swim Collection now to get the perfect summer hair care products for your child!
 xx

Risa Barash,
Founder & Owner of the entire Fairy Tales Hair Care Family